May 21, 2017

Forgive me for not remembering Kevin Durant was injured this postseason. It wasn't like it was that long ago, but with the Golden State Warriors moving at warp speed through the playoffs, you can't blame me for losing track of some minor details.
Tonight, in a decisive 120-108 win in Game 3 of the Western Conference Finals, Durant exploded in the third quarter, running devastating pick-and-rolls with David West, and finished with 33 points on 11-of-19 shooting. In that third quarter, KD had 19 of the Warriors' 36 points. Sixteen of those came in a frenzied succession that left the Spurs' home crowd deflated and dreaming about next season.
It was the kind of roll where a team willingly surrenders to the will of the scalding hot hand, flattening up and getting the hell out of the way. Durant was running the point, slashing to the basket and busting a previously tight game wide open. "It felt good to see the ball go through the rim. It felt good to handle it a little bit more," Durant said to reporters after the game.
The ball hasn't gone through the rim like that in every game since that injury I just said I barely remember. Eleven games into the 2017 playoffs, and KD has bounced all around the stat sheet. In Game 2 of these Western Conference Finals, only 16 points. Game 1? Thirty-four points. And Game 4 against the
Utah Jazz
in the second round? Just 18.
While he hasn't shot under 40 percent in the playoffs so far, even in a succession of blowout victories, Durant still hasn't been able to string together back-to-back monster performances. The Warriors clearly don't need Durant to have a big game in order to keep cruising through the West, but it will certainly help in a seemingly inevitable (sorry, Draymond) Finals matchup with the Cleveland Cavaliers.
Of course, the Warriors have a whole pantry full of All-Stars besides KD. Actually, not just a pantry. Let's call it a fully stocked nuclear fallout bunker, with a freezer where they keep Ian Clark in case of emergency.
This is not a team hurting for offensive options. This is not a team hurting for much of anything. We nitpick and look for flaws (turnovers, bad fouls at inopportune times, the ever-present threat of a Draymond Green dropkick), but we only do that because what else are we supposed to talk about? What sounds like a minor issue could end up being a huge problem when the Warriors' archrivals emerge from the Eastern Conference.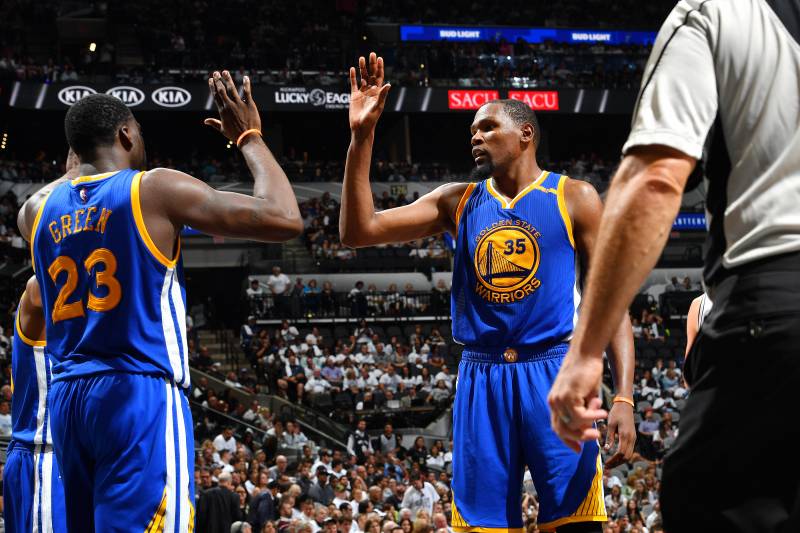 Durant admits that occasionally he struggles to lock in mentally. "If I see a lane open, sometimes I think too much," he said. "I look to pass when I should look to score, and I look to score when I should look to pass."
In addition to those 33 points and 10 rebounds, he also surrendered seven turnovers—the most giveaways by a single player in Game 3. No surprise, then, that Durant seemed the most effective bringing the ball up the court and running the offense with West as his sidekick. He could pick his spots and simplify the game, backdooring defenders for easy layups.
"I figured out if I just don't think at all, that's when I'm best," he said.
In the deciding moments Saturday night, the Dubs' attack certainly didn't seem like brain surgery. "We didn't do anything tricky," coach Mike Brown said of Durant's show-stopping third quarter. "He got hot."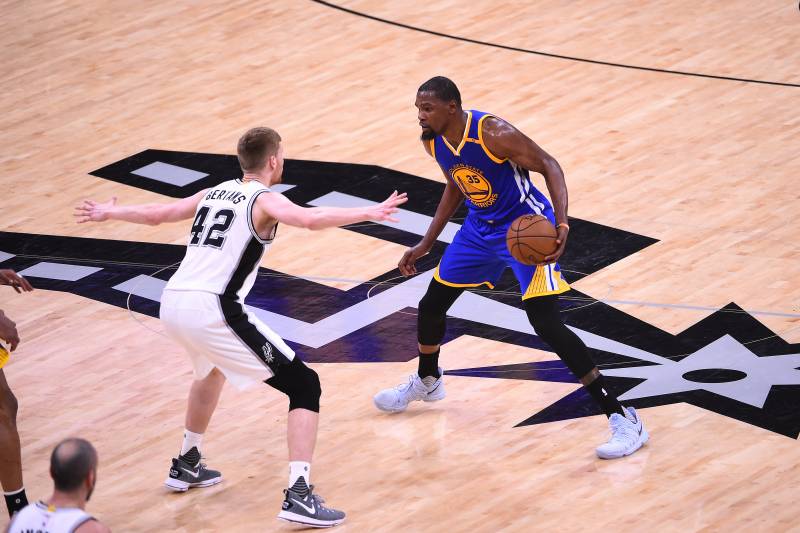 Golden State won't be able to simply turn the half court over to KD in the NBA Finals, though. The downside of an embarrassment of riches where just about everyone in the starting lineup can handle is that, well, everyone will want to handle. But Game 3 Durant, the one we've seen in just about every other outing since his return, can be a difference-maker in games that are, at least for a while, close (aka the types of contests we should see next round).
The small-ball lineup the Cavs run out against the Warriors will be far more formidable than the Spurs unit that wilted tonight. This will be (sorry again, Dray) Durant's second trip to the Finals. In the 2012 matchup with LeBron James and the Miami Heat, he averaged 30.6 points per game and 6.0 rebounds. But in that series' clinching Game 5, Durant's 32 points were tempered by, you guessed it, seven turnovers. He finished with a minus-23 in 43 minutes of action. He had 19 turnovers across the entire series.
I might not remember much about the injury Kevin Durant overcame to get this far in the playoffs, but surely Durant remembers 2012 and will do everything he can to wipe that bitter taste out of his mouth when the calendar turns to June.
SOURCE: bleacherreport