June is the cruellest month – or at least, it is for Australians at this rather dampICC Champions Trophy. On a drizzly, doom-laden day at The Oval Australia's attempt to chase down a modest Bangladesh total was interrupted by heavy evening rain four overs short of a completed game. Maddeningly for Steve Smith, who blocked the final ball of the day before trudging off in exasperation, the Australians were 44 runs ahead at that stage on DLS calculations and strolling it before the skies closed in.
As a lone, sodden cheerleading beefeater scampered through the evening puddles and a scattering of Bangladeshis cheered wildly at the return of the billowing covers, there were elements of farce to the proceedings. Had this game not been a day-nighter all would have been done and dusted by the time rain made it up the M4. On the other hand Australia probably would have lost to New Zealand in Cardiff, so their points tally is more or less par. But they were deprived here of a chance to boost their run rate by putting a tottering Bangladesh away, which could yet prove key.
And so the tournament goes rumbling back to Cardiff for a potentially fun, adrenaline-laced encounter between England and New Zealand that is again threatened with the prospect of heavy rain. That game will mark a third of the way through a tournament that has fizzled and sputtered gamely without quite catching fire. Three of five matches staged have been affected by the weather, with a daunting forecast for the week ahead.
For all the discomfort at the intrusion into the International Cricket Council's carefully planned extravaganza, this is not an uncommon experience in the first half of June. Damp early summers and bone-dry Septembers have become such a feature in recent years that there was, briefly, a move among schools to shift cricket a term back either side of the summer holidays. Four years ago in the last Champions Trophy seven of 15 matches played were affected by rain at exactly the same stage of the summer.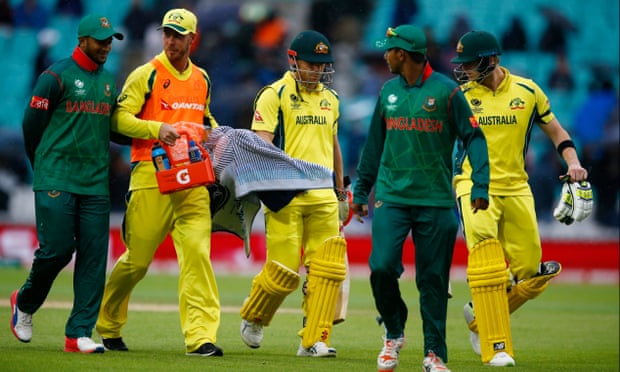 There is, of course, nothing to be done about this, although a useful tweak might be to introduce a little flexibility for drinks breaks and intervals. Four overs short of a full game in a match interrupted by people coming on with water bottles and the full whack for lunch: at times cricket's enjoyably rigid routines can look unintentionally comic.
At The Oval there was at least a reversal of the batting dominance to date, a function of tight, assertive Australian pace bowling mixed with a supine performance from Bangladesh's lower order. In keeping with a lop-sided tournament this was only ever going one way from the moment Bangladesh were bullied batting first by Australia's pace attack, the top order falling away steadily and the tail visibly quaking at the sight of Mitchell Starc bounding in to bowl his death-over toenail-crushers.
Starc hoovered up four wickets in nine balls at the end of his spell, three of his victims bowled while leaping away towards square-leg to reveal all three stumps, like a waiter whisking the cover from a particularly appetising evening meal. Starc can be a daunting prospect. But this was pretty abject.
As it had been for the tournament opener The Oval was alive with a powerful Bangladeshi support on Monday afternoon. Mashrafe Mortaza won the toss and chose to bat, signal for boisterous cheers at every show of batting aggression on a muggy morning during which Australia's pace attack confirmed its standing as the most powerful in this tournament, zinging the ball past both edge and grille regularly on a fairly docile pitch.
Josh Hazelwood showed the zip and guile England's openers will have to contend with this winter. Pat Cummins bowled with speed and fire, touching 91mph. Tamim Iqbal kept on swinging, carving at anything with any width and manning the quietly crumbing deck all the way to a pugnacious 95 from 114 balls, before becoming the opening act in Starc's bravura triple-wicket maiden at the end.
Chasing 182, Australia set off briskly. On 36 David Warner became the third fastest man to 4,000 ODI runs, behind only Viv Richards and Hashim Amla. Then came the rain and an unsatisfying slow death, the floodlights gleaming eerily off the slick covered square, stands long empty. There is still plenty of time for this tournament to catch fire even if, right now, it all looks a little soggy.