October 16, 2014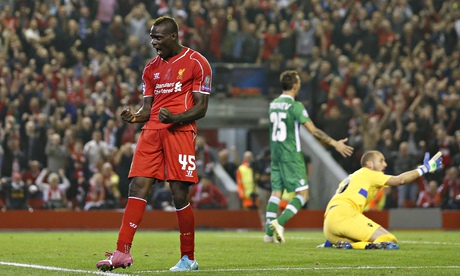 Mario Balotelli has said he was surprised by the quality in Liverpool's squad when he signed for Brendan Rodgers's team and has admitted that he is desperate to score his first Premier League goal for the club.
The striker has had the international break to focus solely on his club form after being dropped by the new Italy head coach, Antonio Conte, and says he is determined to repay the faith shown to him by the Liverpool supporters.
"I didn't really know much about the club before coming here, but I've been really surprised," Balotelli said of Liverpool in an interview with Sport magazine. "I knew they were a very good team, but I didn't know they were as good as they are. Of course we need to improve many things because we have started off not very good, but I think the players here are amazing."
Balotelli said his only current objective is to break his Premier League duck. "I can see already that the Liverpool fans really like me, although I know that maybe they are a little upset because I don't score.
"I see they appreciate that I am working hard, though, which is nice for me. I know I have one goal in the Champions League, but in the Premier League I have to start with one. After that, I might set myself a target, but I swear – right now my first league goal is my first and only objective.
"I need to get in the box more. I don't do it enough, but it is something I am working to try to do more. I have never been a real, out-and-out striker – I have always been someone who goes around the pitch, you know?
"If it was my choice, I would always go with two strikers. It's the way I like to play, but Brendan asked me to play as the first striker. I understand that when the ball comes from wide on the left or right, I need to be in the box otherwise there might be no one there at all."
Balotelli also compared Steven Gerrard to his fellow Italian Andrea Pirlo: "Gerrard is an amazing player. I had really not seen much of him before this season, apart from for England, but wow. I think of him as being at the same level as Pirlo.
"Vision, technique, but he is powerful as well. Stevie can do anything. It's going to be very difficult for the team to find another player like him in the future."
SOURCE: theguardian