February 4, 2018
Will the Patriots win a record-tying sixth Super Bowl championship or will the Eagles win their first? Our writers hash it out:
What the Patriots need to do to win:
Paolo Bandini: Let Philly build up a lead, then stick the ball in Tom Brady's hands? I'm being glib, but when a team pulls off as many come-from-behind wins as this one, over such an extended period, what else are we supposed to say?
You probably don't need reminding that the Pats trailed by 25 points in the third quarter of last year's Super Bowl. Or that they stuck 14 fourth-quarter points on a previously dominant Jacksonville defense in last month's AFC title game.
Perhaps the more nuanced version of that same answer is: keep on adjusting. As brilliant as Brady is in the clutch, it is Bill Belichick's capacity for tweaking his gameplan on the fly that makes this team so hard to beat.
We saw it against the Jaguars, whose offense exploded in the first half but ground to a halt as New England started finding ways to keep Blake Bortles in the pocket.
A different approach would be required against Nick Foles and company, but these Patriots know they need not panic if they don't have the right answers at the start.
Bryan Armen Graham: Above all, New England's offensive line must protect Brady and they will have their hands full with a stout Philadelphia pass rush that's tormented opponents all year long.
Eagles defensive coordinator Jim Schwartz likes to rotate Fletcher Cox, Tim Jernigan, Brandon Graham and Vinny Curry frequently with Chris Long, Beau Allen, Derek Barnett and Destiny Vaeao, an embarrassment of riches on the defensive line that allows them to pressure the quarterback without relying on the blitz.
Look for the Patriots to run a lot of no-huddle to negate Philly's depth and keep the Eagles' offense on the sidelines.
What the Eagles need to do to win:
PB: Predictable, perhaps, but disrupting Tom Brady has to be the biggest part of this picture.
The Patriots, as noted earlier, are masters of the in-game adjustment. Take away Rob Gronkowski, and they'll just fire up Danny Amendola. Commit to slowing down the run and they can either start to look for Brandin Cooks over the top or exploit your aggression with James White and Rex Burkhead in the screen game.
Brady is the one essential piece of the puzzle, and has played some of the best football of his career even this year at 40 years old.
There might not be a team in the NFL better equipped than Philly to generate pressure with a four-man front at the tail end of a long season, however, thanks to an extraordinarily deep rotation which can alternate the likes of Fletcher Cox, Brandon Graham, Tim Jernigan and Vinny Curry with Beau Allen, Derek Barnett and Chris Long.
That group must play up to its potential for the Eagles to prevail.
BG: There's been no shortage of hand-wringing over Nick Foles, the back-up quarterback thrust into the starter's role when Carson Wentz was lost to a season-ending injury in December. But the Eagles' coaches have done a masterful job of crafting game plans around Foles' strengths and masking his weaknesses, putting him in a position to make plays.
They will play with irreverence and they will put up points as they have all year, with or without their franchise player.
Not surprisingly, it will come down to the defense, which rated among the NFL's best all season long. The Eagles must hurry Brady and shorten the game to keep New England's offense off the field.
It's the common thread in nearly all of the Patriots' high-profile defeats, including their AFC title game loss to the Broncos two years ago and both Super Bowl setbacks to the Giants.
Unsung player to look out for:
PB: My first thought was Trey Flowers – undersized for an interior lineman, and slower than you would really like for an edge rusher, yet somehow consistently productive wherever he is deployed by New England. But is he actually unsung any more?
I'll go with Kyle Van Noy instead – third on the team in tackles during the regular season and a wrecking ball against Jacksonville, who had made a positive start on their final possession until he sacked Blake Bortles for a seven-yard loss.
BAG: No one is better than Belichick when it comes to denying an opponent's best weapon or strategy. That will create opportunities for outsiders like rookie running back Corey Clement, an undrafted free agent who was a longshot to make the team in training camp but who's emerged as Philadelphia's best pass-blocking back and a dependable target on screen passes.
Clement only rushed for 321 yards, but he leads all Philadelphia running backs in rushing touchdowns (four) and total touchdowns (six).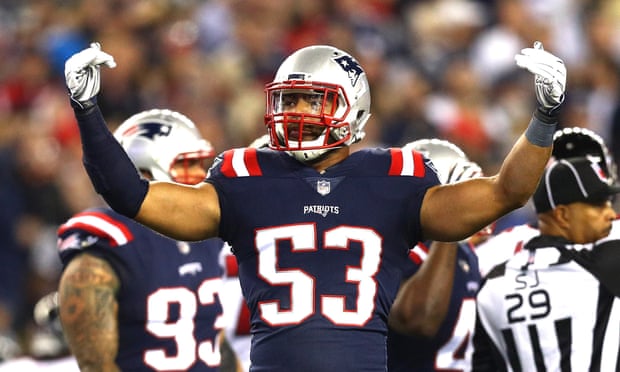 What you're most looking forward to seeing
PB: The coaching duel between Bill Belichick and Doug Pederson. The Eagles opened up the playbook against Minnesota, and were rewarded with a monster game from Nick Foles. So what does Pederson have up his sleeve here, and how will Belichick counter? And after each team pulled out the flea-flicker in the conference title games, what fresh misdirection lies in store?
BAG: Early fireworks. New England's pass defense has improved greatly since early in the season when it allowed an NFL-record six consecutive opposing quarterbacks to throw for at least 300 yards, but the Patriots remain vulnerable over the top.
The aggressive play-calling of Eagles coach Doug Pederson, whose first game as a head coach above the high school level was remarkably less than 17 months ago, has been a key ingredient Philadelphia's sudden reversal of fortune.
Don't expect a cagey opening. Coming off an NFC championship game where Foles became the first quarterback in NFL history with completions of more than 40 yards to three different receivers in a postseason game, look for Pederson to take shots downfield early.
One bold prediction:
PB: Brady throws a pick six.
BAG: Brandin Cooks will go for over 120 yards receiving and a touchdown as the Eagles are forced to devote extra safety to Gronkowski.
Your MVP will be …
PB: Well if my bold prediction is correct then it might be the guy who runs that interception back, but I'm going to go with Zach Ertz. The Eagles tight end absolutely dominated Harrison Smith – a popular pick for the NFL's defensive player of the year – in the NFC title game. Who do the Patriots have who can match up against him better?
BAG: Nick Foles, Super Bowl MVP? It might sound funny, but the 29-year-old quarterback has played himself into form since Wentz's injury shook the constitution of a city.
After carrying the Eagles into the Super Bowl with a master-class performance against the Vikings, Foles' career playoff numbers speak for themselves: 72 of 96 passes for 793 yards, with five touchdowns and no interceptions.
That 116.4 passer rating is the best in NFL playoff history for any quarterback with at least 75 passing attempts, surpassing a mark held by Jeff Hostetler, another understudy who came off the bench late in the season to help his NFC East team to an improbably Super Bowl win over a heavily favored AFC East opponent.
The winner will be …
PB: I honestly think we'll look back on this and marvel at the idea that the Eagles were ever able to convince us they were the underdogs, despite a 13-3 record and a 31-point win in the NFC title game. Yes, they lost Wentz. But we've seen enough since to conclude that this is still an excellent team. Eagles 24, Patriots 21
BAG: All seven of New England's Super Bowls in the Belichick/Brady era have been decided by six points or less and there's little reason to believe the eighth will be any less touch and go.
The Eagles will race out to a half-time lead and whether they can hold off New England's inevitable rally, as an entire city chews their fingernails to nubs, will determine who comes away with the trophy.
It says here they will on a late Jake Elliott field goal. Eagles 27, Patriots 24
SOURCE: theguardian.co.uk