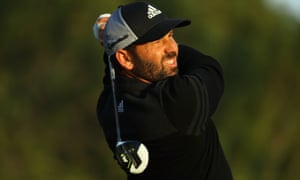 Spain's Sergio García finished his third round of the Dubai Desert Classic in near darkness, scoring 68 to lead the field by three with 18 holes to play.
How the Dubai Desert Classic needed this.
After the grim reality of Tiger Woods and his latest ailments, combined with freak desert conditions, the tournament needed an upbeat narrative.
It arrived during a compelling, if elongated, third round; Sergio García leads by three with 18 holes to play as Henrik Stenson, seeking his first victory since the Open, hunts down the Spaniard. At 16 under par, García is in the box seat, even if his rounds – 65, 67 and 68 – have gradually worsened since day one.
The intrigue does not end there. Ian Poulter's return to form after injury was endorsed by a second 67 in three rounds to leave the Englishman in a share of third place, five adrift of García. A Poulter win would perhaps be the most stunning story of all, given his struggles of the past two years.
"I needed to shoot a decent round because, obviously, Sergio and the guys in front were a few shots clear," said Poulter, who has the same aggregate as Prom Meesawat.
"I've done my job today, so I'm very pleased.
"I'm quietly confident. I wouldn't say I feel like I'm on my A Game, but I'm doing my job, and that's all I can do right now; slowly but surely try to get in contention and see what happens tomorrow."
The gusts that led to the early conclusion of play on Friday naturally affected matters a day later. García, who finished his second round late on Saturday morning, later holed out for a 68 in near darkness.
It remains a source of amusement how quickly professional golfers can move when the threat of returning to play a single hole early next morning is a real one.
"At the end, it was very, very dark, I'll tell you that," García said.
"When we were walking on 17, I thought, well, it will probably be a little dark but not too bad. But it gets dark very, very quickly here.
"We couldn't really see much on the last three shots. I pretty much couldn't see the ball land and the last putt was a little bit of a feel and a little bit of the read that George [Coetzee] gave me, and I'm very fortunate to be able to make it."
Albeit he does not play much golf on his home continent, it remains notable García has no European Tour win since 2014.
More significant is the fact the 37-year-old's ability, particularly from tee to green, has not been properly represented by career success. So often, García's off‑course situation links to professional form.
Having become engaged recently, he is visibly content with life – a scenario that suggests imminent glory.
Stenson, a former champion here, looks like being García's biggest threat.
"I'm coming in only three behind Sergio, something like that; that's where you want to be," the Swede said.
"You try and apply some pressure on the front nine. Any time you can be within a couple shots heading into the back nine, you can make it happen.
"I'm happy to get the round finished. We had to rush a little bit here to get on 18 and hit it on the green in two, which was nice.
"Then we just tried to get that down in two. It's hard with the pace of the putts in the dark, and I hit it about four and a half feet by, so I had a little tester coming back. But I made a nice putt and closed out the day, nicely."
This fascinating joust aside, the latest notice of intent from Curtis Luck arrived. The 20-year-old Australian amateur is rightly regarded as one of the hottest prospects in golf, his third round of 68 edging him to eight under par and, for now, a share of 11th.
"I've had an absolute blast in Dubai and playing in the Desert Classic," he said.
"It's been awesome fun. Hopefully, it will be fun tomorrow and I can get further up the leaderboard."
Luck lacks nothing in confidence. The follow-up question related to what he might achieve on Sunday.
"Anything," was the instant reply. Remember the name.
EDITED FROM: theguardian.co.uk