September 27, 2016
Fake sheiks, faith healers and Fabio's feud with the FA: what is it about the office of the England manager that inspires so much controversy?
Sam Allardyce's name can be added to a list of men who've come a cropper in the top job in English football.
Allardyce, filmed discussing how to circumvent rules against third-party ownership of players in England and negotiating a fee for his services, joins a company of men who've found acrimony comes hand-in-hand with a desk at Wembley.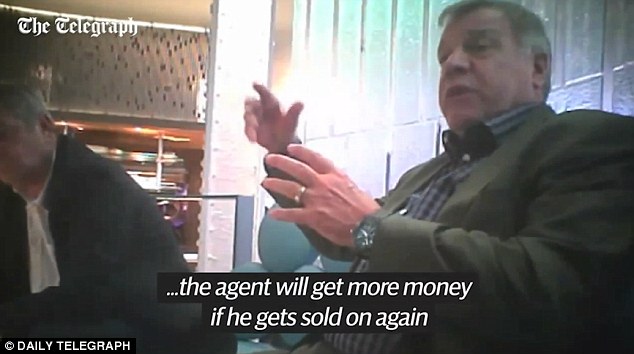 Since England's last World Cup semi-final in 1990, under Sir Bobby Robson, the national team has appointed nine full-time managers. Just nine.
Yet those nine men have, between them, insulted the disabled, had an affair with an FA secretary, fallen out with the governing body over the captain's eligibility, offered to tap up another national captain and, now, shown a willingness to guide businessmen through football's greyest loopholes.
The following is a list of the Hall of Shame of managers of the Three Lions:
Don Revie
Back in 1977, Revie began to look for a way out of the England set-up, convinced that the FA were already searching for his replacement. A disappointing spell in charge had brought 14 wins from 29 games and failure to reach the 1976 European Championship.
Revie felt the job generated 'too much heartache to those nearest me' and, when an opportunity to jump ship to a £340,000-a-year contract in the United Arab Emirates came up, he decided to quit England. He was the first manager to do so.
It was the way in which the Teessider went about it, though, that sparked so much ill-feeling.
REVIE'S ENGLAND RECORD
In charge: 1974-77
Games: 29
Wins: 14
Draws: 8
Losses: 7
Win %: 48.3
Revie sold his story to the Daily Mail, with FA chiefs discovering their manager had resigned on July 11, 1977 via the newspaper's scoop. His resignation letter, it emerged, did not turn up at Lancaster House until after the head office had closed.
Later, it would be reported that Revie had skipped a friendly against Brazil in Rio to discuss terms in the Middle East, citing a scouting mission as the reason for his absence.
The episode incensed the FA, with chairman Sir Harold Thompson charging him with bringing the game into disrepute and presiding over the hearing in which Revie was banned from English football for 10 years – a verdict overturned in the High Court.
Terry Venables
Venables took England to their last semi-final at a major tournament – on home soil at Euro 96 – but five months earlier he had announced his intention to step away from the role that summer.
The former Tottenham boss cited upcoming court cases as the reason behind his decision to walk away.
In 1994, a police inquiry cleared Venables of allegations that he paid Brian Clough a £50,000 bung for the transfer of Teddy Sheringham.
VENABLES' ENGLAND RECORD
In charge: 1994-96
Games: 23
Wins: 11
Draws: 11
Losses: 1
Win %: 47.8
Venables would later say that there was a 'concerted and organised campaign' afoot to discredit him.
Meanwhile, a very public falling out with then-Spurs chairman Alan Sugar led to El Tel being banned from White Hart Lane for several years.
Only the intervention of FA chairman Bert Millichip healed the rift.
After reviewing his legal commitments in the wake of Euro 96, he joined Portsmouth as director of football.
Glenn Hoddle
In a January 1999 interview with The Times, Hoddle expressed his personal views on faith and the human spirit.
In the article, the former Tottenham midfielder – who had seen his England side knocked out of the World Cup on penalties by Argentina six months previously – was quoted as saying: 'You and I have been physically given two hands and two legs and half-decent brains.
'Some people have not been born like that for a reason. The karma is working from another lifetime. I have nothing to hide about that. It is not only people with disabilities. What you sow, you have to reap.'
Hoddle's opinions – which he later claimed were 'turned on their head', 'misconstrued' and 'misinterpreted' – outraged disability groups, fans and MPs.
HODDLE'S ENGLAND RECORD
In charge: 1996-99
Games: 28
Wins: 17
Draws: 6
Losses: 5
Win %: 60.7
It soon emerged that, despite his suggestions that he was misquoted, the Three Lions boss had previously aired similar thoughts in another interview – with Radio Five Live's 'Sportsweek' programme.
The Observer reported Hoddle as saying:  'I have got an inner belief and an inner faith with God. I do believe spiritually we have to progress because we've been here before. The physical body is just an overcoat for your spirit.
'At death you take the overcoat off and your spirit will go on to another life in a spirit dimension.'
By February 2, he was stripped of his role at the FA.
Sven Goran Eriksson 
Eriksson was involved in two major, public 'controversies' during his tenure.
Aside from leading England to the quarter-finals of the 2002 and 2006 World Cups, the Swede was caught up in romantic liaisons with FA secretary Faria Alam and tricked by a News Of The World sting into spilling the beans on the national squad and his own future.
First came Alam. Eriksson revealed in his memoirs how he had become besotted with the Bangladeshi-born administrator during his time working at the FA's Lancaster Gate offices.
ERIKSSON'S ENGLAND RECORD
In charge: 2001-06
Games: 67
Wins: 40
Draws: 17
Losses: 10
Win %: 59.7
'She was sexy and smart — just my type — and very pleasant to be around,' he wrote.
Alam had been romantically linked to FA chief executive Mark Palios while Eriksson was dating Italian lawyer Nancy Dell'Olio but the pair soon became an item.
The sex scandal erupted over the summer of 2004 but the Swede kept his job.
'There were those at the FA who wanted to see me fired, but I hadn't done anything illegal,' he wrote.
'There was nothing written in the bylaws of the English Football Association that said you couldn't enter into a romantic relationship with another employee.'
Eriksson also survived the Fake Sheik incident 18 months later, when investigative reporter Mazher Mahmood impersonated Middle East royalty to gain the England manager's trust.
Eriksson told Mahmood that he was ready to quit England to take on a £5m-a-year job at Aston Villa, that he could talk to David Beckham about a possible transfer to the West Midlands and that Rio Ferdinand was 'lazy'.
While he stayed on for the 2006 World Cup in Germany, the ex-Lazio boss then decided the time was right to leave.
Fabio Capello
A frosty relationship with the Football Association froze over in 2012 when John Terry was stripped of the England captaincy without the say-so of the team's Italian manager.
Terry had been accused of racially abusing Anton Ferdinand during Chelsea's visit to QPR in October 2011. After being charged by the police he had the armband removed by FA chiefs. He was later cleared in Westminster Magistrates Court.
CAPELLO'S ENGLAND RECORD
In charge: 2008-12
Games: 42
Wins: 28
Draws: 8
Losses: 6
Win %: 66.7
Capello had already endured a difficult tenure – a miserable World Cup in South Africa played out against the backdrop of a divided dressing room in a soulless Rustenberg training camp – but his scales were tipped by the administrators above him taking control out of his own hands.
Terry, he felt, should have kept his role under the presumption of innocence until proven guilt. He spoke out publicly against the FA's decision.
'I spoke with the chairman and I told him that I don't think someone can be punished until it becomes official,' he told Italian state broadcaster Rai.
'The court will decide. It's going to be civil justice, not sports justice, to decide if John Terry committed that crime that he is accused of.
'And I thought it fair that John Terry keeps the captain's armband.'
Two days later, he quit. Terry was eventually found guilty by the FA of racial abuse, handed a four-game ban and told to pay a fine of £220,000.
A BRIEF HISTORY OF ENGLAND MANAGERS
 1946-62: Walter Winterbottom
1963-74: Sir Alf Ramsey
1973: Joe Mercer (caretaker)
1974-77: Don Revie
1977-82: Ron Greenwood
1982-90: Sir Bobby Robson
1990-93: Graham Turner
1994-96: Terry Venables
1996-99: Glenn Hoddle
1999: Howard Wilkinson (caretaker)
1999-2000: Kevin Keegan
2000: Howard Wilkinson (caretaker)
2000: Peter Taylor (caretaker)
2001-06: Sven Goran Eriksson
2006-07: Steve McClaren
2008-12: Fabio Capello
2012: Stuart Pearce (caretaker)
2012-2016: Roy Hodgson
2016-: Sam Allardyce
SOURCE: dailymail.co.uk