April 14, 2019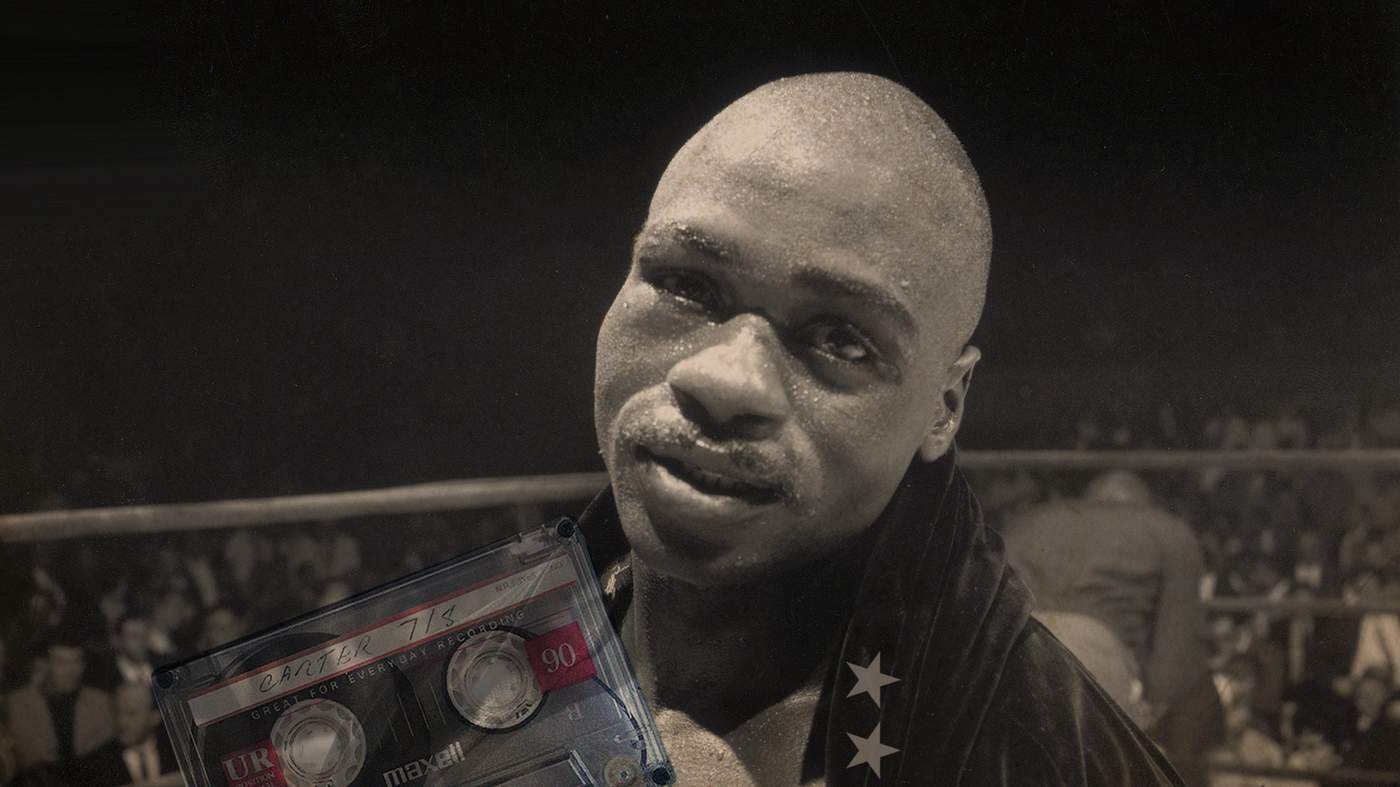 It wasn't just a shooting…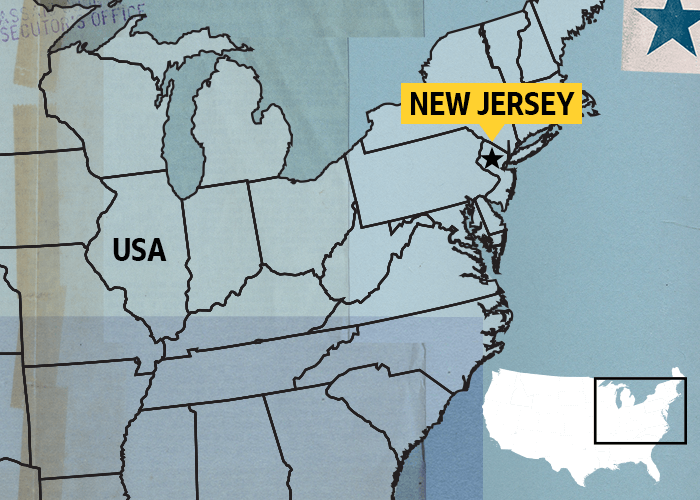 June, 1966.
It's muggy in Paterson, despite it being the early hours of the morning.
In the Lafayette Bar and Grill, a run-down place on the corner of a run-down area, bartender Jim Oliver is still working.
Fred Nauyoks is sitting opposite him, drink in one hand, cigarette in the other, talking to Willie Marins.
At the edge of the bar sits Hazel Tanis, who has called in for a drink after finishing her waitressing shift.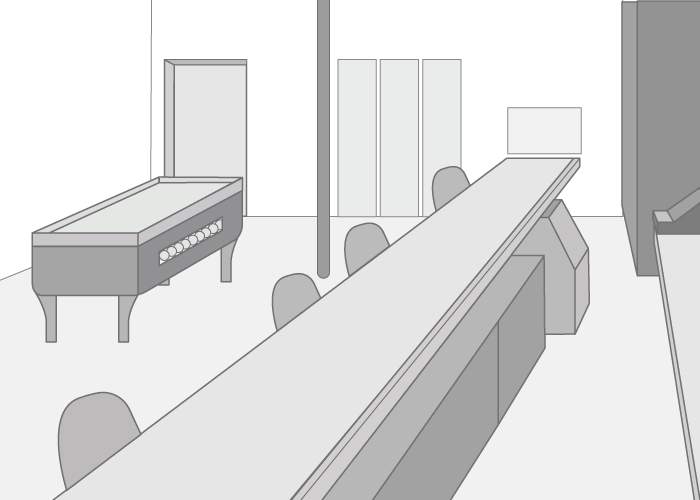 The Lafayette Bar and Grill interior in June 1966
Two black men enter the bar. It's unusual; the Lafayette doesn't serve black patrons.
Even more unusual is what they hold in their hands. One has a shotgun, the other a pistol.
Oliver throws a bottle at the assailants and turns his back on them.
In a heartbeat, he is on the floor, his spinal cord severed by a shotgun blast.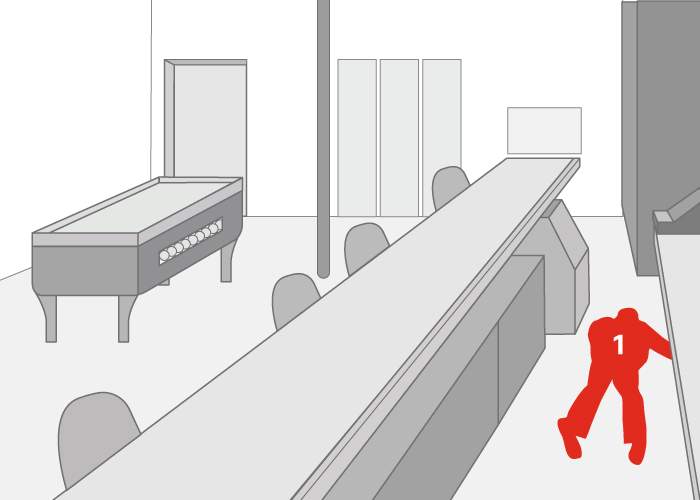 Jim Oliver (1) is the first victim, shot in the back
Nauyoks doesn't have a chance to move from his stool. He dies in his seat, cigarette still burning in his hand, a bullet in the back of his head.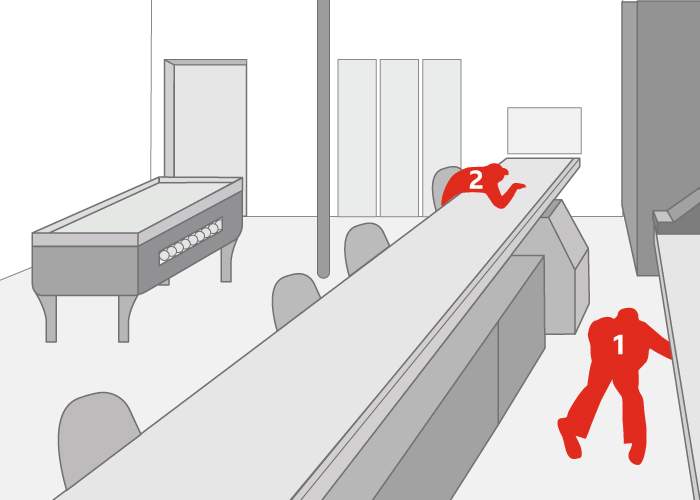 Fred Nauyoks (2) is the next to be shot, taking a bullet to the back of the head
Marins turns his head at both the right and wrong moment. A bullet passes through his eye and explodes out of his forehand. He passes out.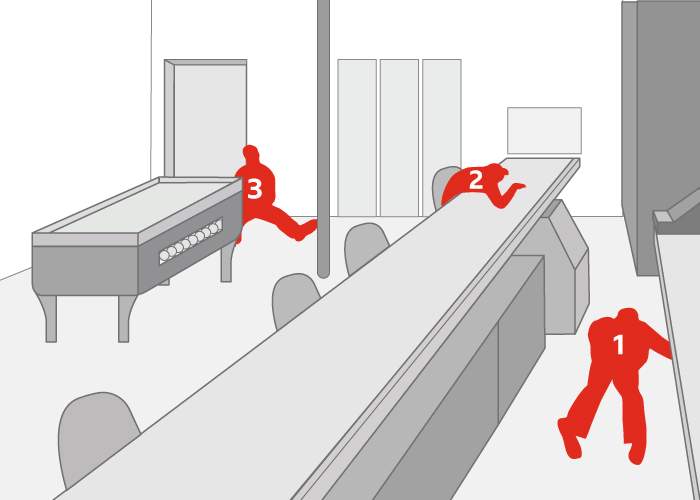 Willie Marins (3) is also shot in the head, but does not die from the injury
Tanis jumps off her seat and is trying to hide when the gunmen find her.
They empty their remaining bullets into her body, leaving her bleeding on the bar-room floor, before turning and disappearing into the New Jersey night.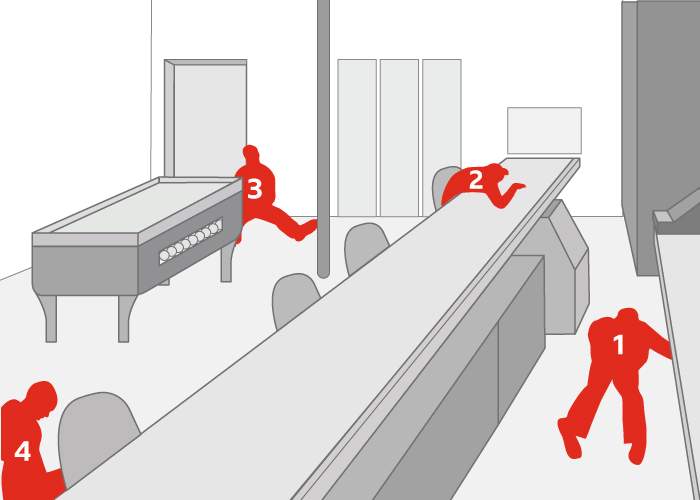 Hazel Tanis (4) has time to leave her seat, but not enough to flee, becoming the fourth to be shot
Eight bullets. Two dead. One dying. One seriously injured. All in 20 seconds.
Rubin Carter always remembered a childhood hunting trip.
His father tracked squirrels and raccoons to feed the family in a United States crippled by the Great Depression of the 1930s. He took young Rubin and his uncles with him on one trip.
As they drove through the New Jersey woodland, they noticed they were being followed by a truck. The driver, a white man, tried to run them off the road.
Carter thought the driver was acting like it was his right to target them.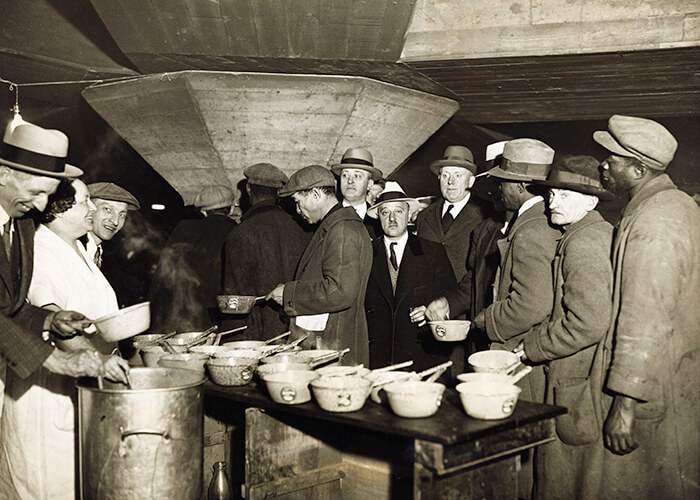 Carter's father stopped. So did the trucker. Carter's father got out. So did the trucker. Carter's uncle followed, a shotgun cradled to his chest. The trucker, wisely, fled.
For young Rubin, this act of self-protection, of looking after yourself whoever the opponent, had a lasting effect.
He was a natural leader as a youth, overseeing a gang that would fight other kids in the neighbourhood.
His desire to fight didn't just extend to his own age group.
He was once seen by a preacher stealing clothes. The preacher told Carter's father. Carter promptly attacked the preacher – a man who was far older than him.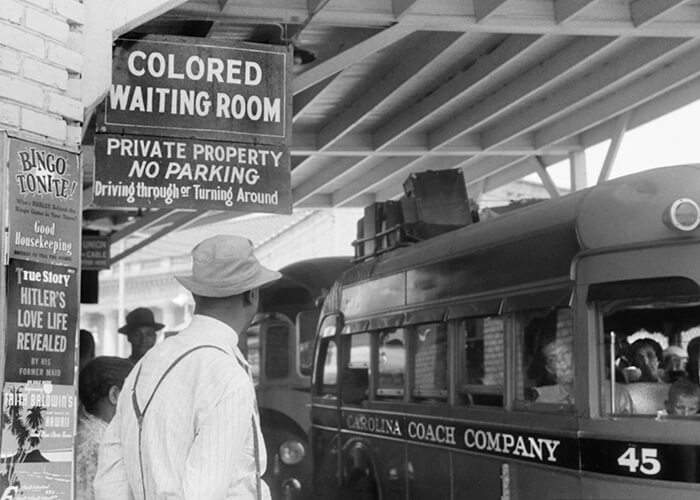 He did enough damage to merit a beating from his father, who cracked him in the eye with a belt before calling the police.
"Rubin would grin and slobber when he fought as a kid," Johnny said. "It wasn't so much he was a bad or evil guy. He was just who he was."
What Rubin was, by age 14, was a prisoner.
He stabbed a man he claimed was a paedophile and was sent to Jamesburg, which he referred to as a place "where eight-year-old kids become the prey of 15-year-old killers and rapists".
His father refused to visit, so Carter put his energy into ruling the roost.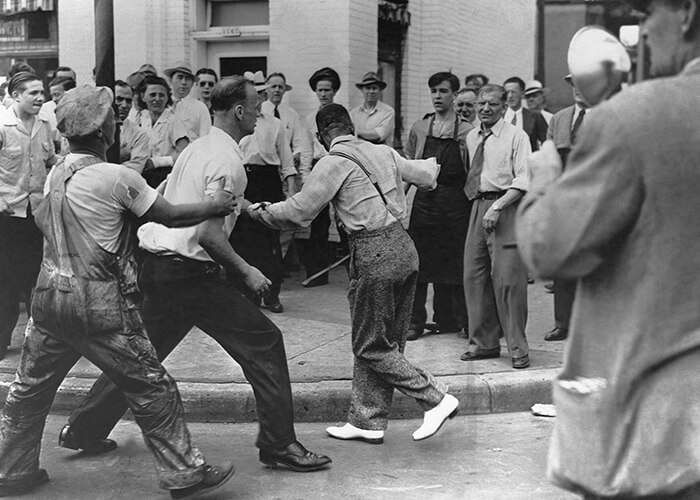 He became one of the toughest in the prison, a person who "if they wanted to beat somebody up, they beat them up, because that's how they rule".
Eventually, enough was enough. He broke a window and escaped. For two days he ran, putting 80km between him and the prison.
Patty Valentine is asleep on her couch, the TV still playing in her flat above the Lafayette. Her son is asleep down the hall.
A banging noise wakes her; she assumes it's Jim, closing up for the night.
She goes to the window on the corner of East 18th and Lafayette and realises the bar is still open, the neon light still shining into her living room.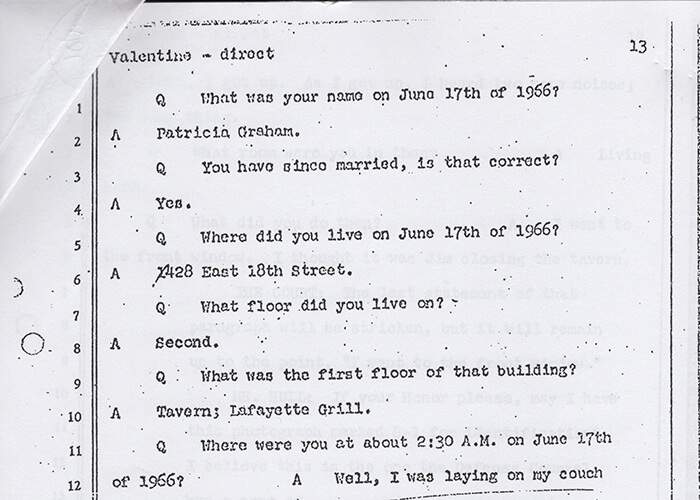 Extract from police interview with Patty Valentine
Valentine hears a voice – a frightened, unidentifiable voice, that cries out "oh no".
She goes to her front window before moving into her bedroom, which overlooks Lafayette Street. A white car is parked in the middle of the road. Valentine sees it has New York licence plates – dark blue with yellow and gold lettering – and tail lights shaped like triangles.
She stands and watches two black men leave the bar. One climbs into the driver's seat, the other the passenger side, and they drive off into the night.
She's seen enough. Pulling on a raincoat, Valentine heads downstairs and through a side door.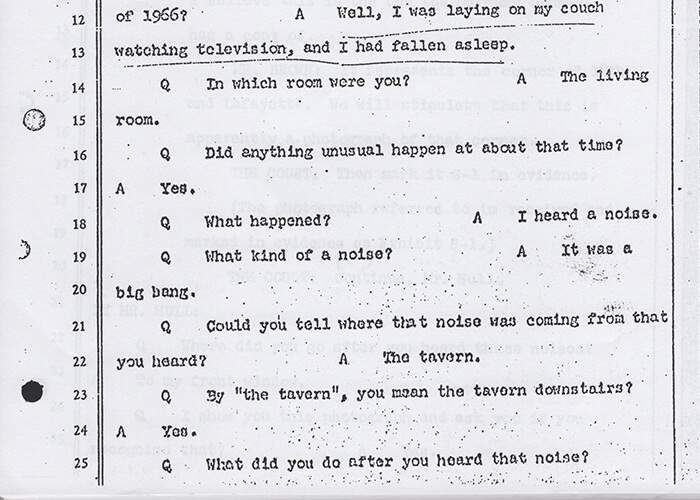 A man tells her to stay away. Glancing inside, Valentine sees Marins holding on to a pole, blood on his forehead.
Instinctively, she walks towards him. As she rounds the pool table, something catches her attention. It's Tanis. She knows her. She recognises the country club uniform she's wearing. A black uniform, slowly turning red.
Valentine's eyes linger on the blood. She takes a second to process it before screaming and running out of the bar and up to her flat.
At 2.34am, the police are called.
After escaping from jail, Carter's next stop was the army.
He joined in 1954 and was dispatched to Germany, where he took a liking to the bars.
Unsteady on his feet one night, he stumbled across the army boxers midway through a gym session. He turned to their trainer and announced he could beat any man there.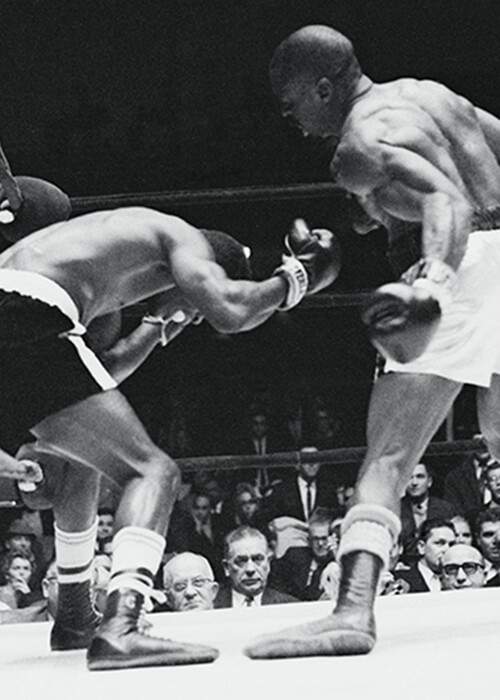 Carter v Griffith
The trainer, spotting the tell-tale sway of alcohol, suggested he return the next day. He did – and proved true to his word.
His transformation from ill-disciplined street fighter to professional boxer had begun.
"Some guys would knock you cold," his friend Ron Lipton said. "Rubin would paralyse you with a punch."
Another former sparring partner said his battles with Carter made him quickly realise "boxing wasn't something I wanted to do with any regularity".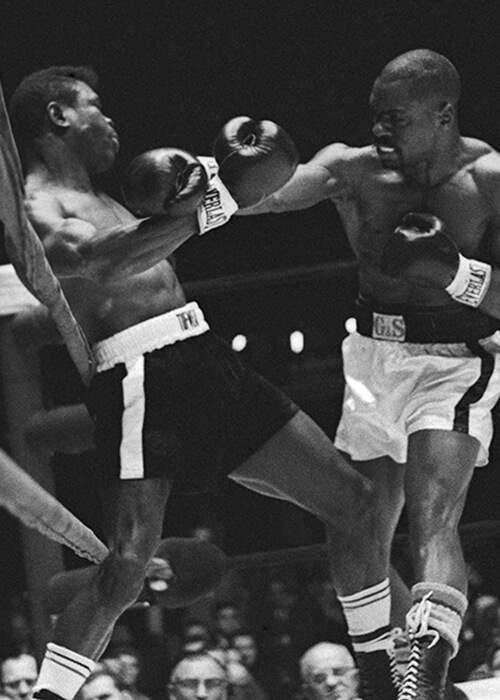 Carter v Griffith
Carter spent two years honing his skills before being discharged.
Two stints in prison quickly followed – first for skipping jail, then for three apparently spur-of-the-moment muggings.
Carter turned professional boxer the day after being released from prison in September 1961.
A year later, at the iconic Madison Square Garden, he needed just 69 seconds and one punch to knock out Florentino Fernandez. 'The Hurricane' was born.
"He was animalistic in the ring because of the fury he would bring on you," ex-sparring partner Fred Hogan said.
Carter grew to hate the name – "I came to realise that this is not me. It was actually a monster" – but the mean, brutal image created a buzz around his fights.
In 1963, the 'Hurricane' was set to fight two-division champion Emile Griffith.
Griffith was bisexual. He had been goaded about his sexuality by Benny Paret in the build-up to a previous fight. On fight night, Griffith punched Paret's head so many times he was carried straight from the ring to hospital and died 10 days later.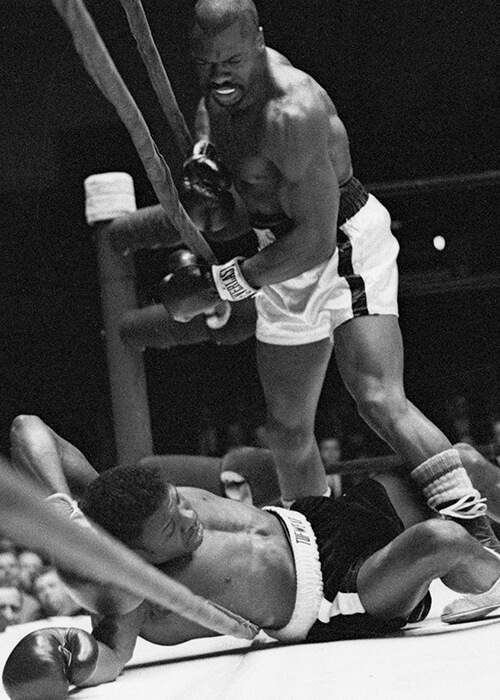 Carter v Griffith
Carter wanted Griffith to lose control when they met. In front of the television cameras, he delivered a stinging blow.
"You talk like a champ, but you fight like a woman who deep down wants to be raped."
The press were in a frenzy. Griffith was furious. He went hard at Carter the next day. Too hard. Carter took aim and floored him in two minutes 13 seconds.
The first paramedic to arrive at the Lafayette Bar slips on the blood that is spreading across the floor.
Two people are dead; Tanis is clinging to life. She and Marins are taken to hospital as detectives, officers and civilians surround the bar.
Less than a mile away, John Artis – a black, 19-year-old track star – is ready for home after an evening's dancing at the Nite Spot.
Looking around for a lift, Artis sees Carter, a regular he met a couple of weeks before. Artis yells out; Carter throws him the keys to his car – white, with New York plates and triangular tail lights – and tells him to drive.
John Bucks Royster, a drifter who has had too much to drink, gets in the front while Carter lies down across the back seats.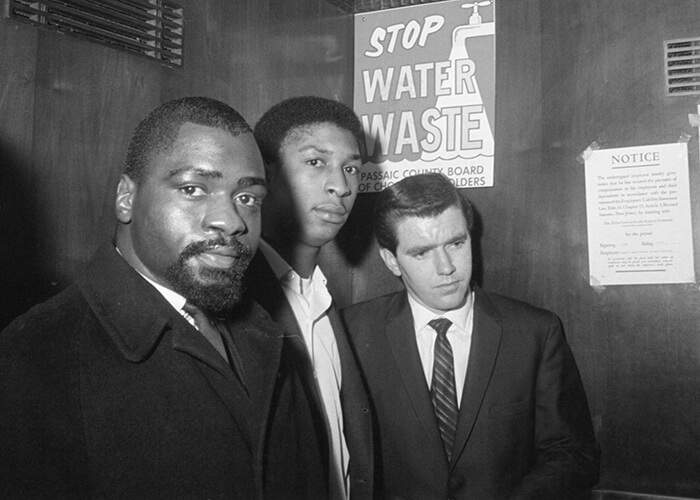 Carter (left) and Artis (middle)
Artis sets off, but six minutes later the interior of the car is lit up by headlights. A police car's headlights. He pulls over, nervous – he's never been in any trouble before.
Carter sits up as the police officer leans in and tells them he is "looking for two negroes". "And any two will do?" Carter replies.
The officer recognises Carter and greets him, then asks to see Artis' licence. He hands it over and, after it is inspected, Artis is told he can go.
Carter lies back down and directs Artis to his house, wanting to pick up some more money before heading back out to the bars.
Artis pulls up outside Carter's house. The boxer takes 15 minutes to get in, get some money and get back in the car.
They drop off Bucks Royster, and Artis sets off home, intending to drop off Carter on the way.
He never makes it.
In 1965, Carter – now a husband and father – was set to face Joey Giardello.
Giardello was the world middleweight champion, but Carter was at the peak of his career.
The fight – reigning champion against loose cannon – took place against a backdrop of racial tension.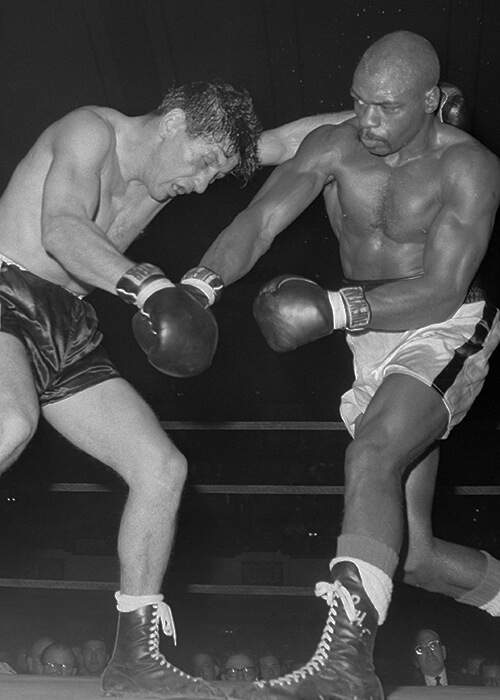 Carter v Giardello
That same year, there was trouble in Paterson, where Carter lived. What started as a group of black teenagers throwing rocks at cars turned into a three-day race riot, with 200 of the area's 310 officers on the streets.
Carter never hid his dislike of the police.
In the build-up to the Giardello fight he talked about his love of guns – "We'd go out in the streets and start fighting, anybody, everybody. We used to shoot at folks" – and bragged that he had once stabbed a man "everywhere but the bottom of his feet".
He also said African Americans should arm themselves for protection.
"If you act like you afraid of me, you better be afraid of me," he said, "because I would do to you exactly what you would do to me. I'd just do it quicker."
The light bounced off Carter's bald head as he entered the ring, clad in silk. Victory would see him take the world title.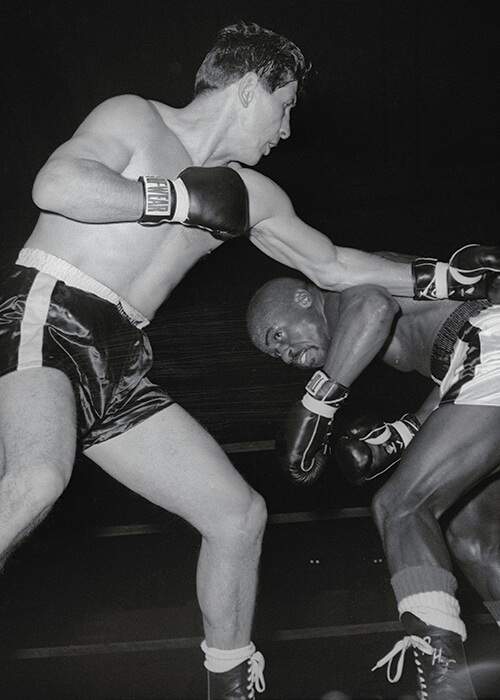 Carter v Giardello
He started well, body blow after body blow pushing Giardello back, but he could not deliver the final strike.
They went the full 15 rounds before the referee raised Giardello's arm above his head.
It was a loss that would start the decline of Carter's career.
Artis is confused.
Thirty minutes since he left the Nite Spot, he's been stopped again by the same officer as before. But this time, he has more company, and he orders Artis to follow him.
They drive through the night in convoy to the Lafayette Bar. They are told to get out of the car. Artis is baffled; Carter suspicious.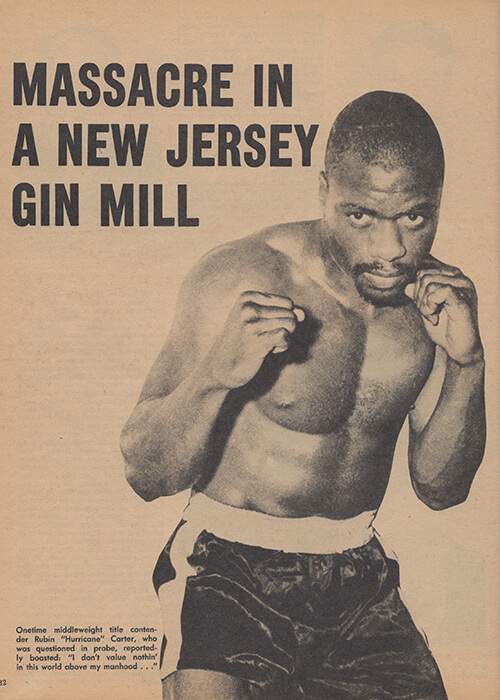 Magazine article on the murders at the Lafayette
They stand by the police cars and watch as two bodies, shrouded in sheets, are brought out of the building. Artis realises this isn't good.
The next thing he knows, he's at the hospital, being walked through the hubbub towards a bed. On it lies Marins, one eye patched up, doctors and nurses swarming around him.
An officer, a man with a huge scar across his face, approaches Marins and asks him bluntly: "Are these the men that shot you?" Marins sits up to get a better view.
He looks at Carter and Artis standing next to each other. A second ticks by. He shakes his head. No.
There's no time for relief. Artis and Carter are whisked to the police station, where Detective Vincent de Simone, a man who Artis thinks resembles a bulldog after taking a wartime blast to the face, interviews them.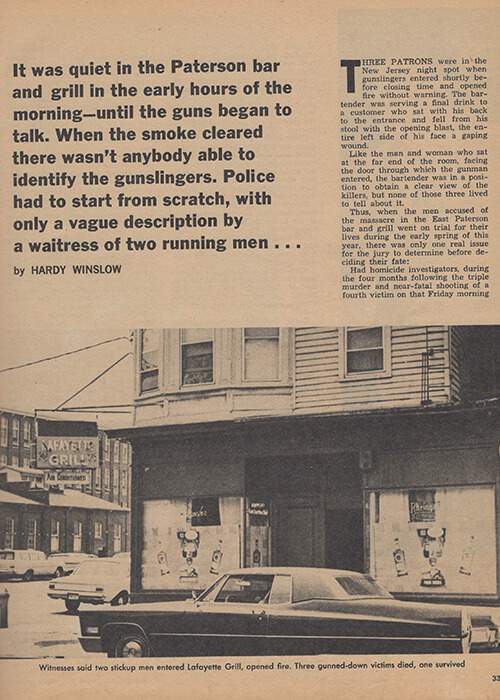 For 17 hours, the questions come to Artis. "Did you shoot them? Did Carter shoot them?" Artis is told repeatedly: "Tell us what happened or we'll lock you up. If you just tell us it was Carter, you can go home."
An officer arrives to administer a lie-detector test and looks both men in the eye as he tells them that if they lie, he'll ensure they get the electric chair.
Both men protest their innocence. Artis refuses to blame Carter.
They are released the next day.
Four months later, the day before his 20th birthday, Artis is out buying soda. He turns to find a shotgun under his chin. He and Carter are arrested for triple murder.
A month after the shooting at the Lafayette, Hazel Tanis succumbed to her injuries.
No dying declaration was taken from the waitress, but Detective De Simone was now investigating a triple homicide. And he was about to get a lucky break.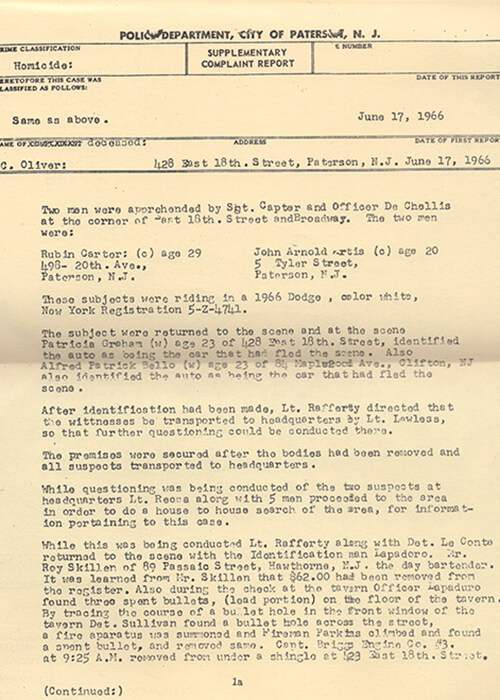 Carter and Artis arrest report
Alfred Bello and Arthur Dexter Bradley had been near the Lafayette Bar that night. Bello was on the lookout while Bradley, a career criminal, was trying to break into a nearby metal company.
Bello grew bored of watching Bradley and turned to walk towards the bar in search of cigarettes.
According to his testimony, he heard three or four loud bangs. More likely to be a band in the bar than a gun, he told himself, and he carried on walking.
Street lights reflected off a parked white car.
He saw two men come out of the Lafayette, one carrying a pistol, the other a shotgun. One, he said, was Rubin Carter; the other, John Artis.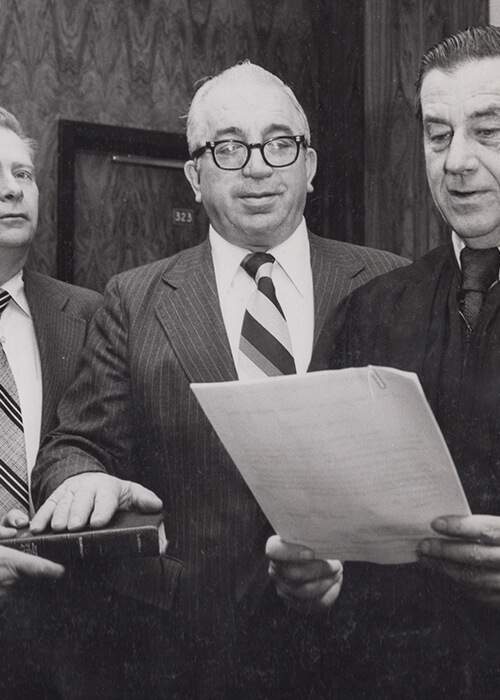 Detective De Simone
The grizzled De Simone was suspicious. The two waited four months before coming forward, doing so shortly after Mayor Frank Graves put up a $10,000 reward for information.
Equally, Bello's story wasn't complete. It later emerged that, after watching the two gunmen leave, Bello went into the bar.
He saw Marins' body, with Tanis dying in the corner. He stepped inside, leaned over the slumped figure at the bar and emptied the cash register of its meagre $60 (£47) takings.
Trustworthy or not, it was all De Simone had. He charged Carter and Artis and the case went to trial on 7 April 1967.
After seven weeks, the all-white jury made their decision. Guilty. Guilty. Guilty.
Life imprisonment awaited Carter and Artis. There was no death penalty, however; a juror later said of Artis: "We didn't want to kill the kid."
Prisoner number 45472 was described on his admission sheet as a "hostile, aggressive individual" who, according to the prison psychologist, would be "manipulative and violent to obtain his self-centered desires".
Carter arrived at Trenton State Prison in 1967 and immediately informed the authorities that he would not wear the prison uniform, he would not work in the prison, he would not eat the prison food and he would not do anything for the guards.
If a hand was placed on him in anger…
Carter was angry at the justice system, at the police, at everyone. He would only let his wife and baby daughter visit him once a month, fearing that his wife would be badly affected. Not that he was in a position to receive visitors. Soon after arriving, he was sent to the hole.
The hole. A prison within a prison. It was solitary confinement; a tiny, dark room in the bowels of the prison, containing a concrete slab of a bed and a bucket in place of a toilet.
While he was there, Carter felt unwell; there was something wrong with his eye. The prison doctor diagnosed a detached retina, which Carter put down to an old boxing injury. Other prisoners thought it was the result of a fight in the mess hall.
Carter was in pain and, if it wasn't treated, it would end the boxing career he intended to resume on his release.
He wanted to have the operation outside prison but the authorities would not let him leave the grounds.
He had the surgery in the prison hospital. When he woke, he could see nothing but darkness out of his right eye. His sight was gone. His days as the 'Hurricane' were over.
Fred Hogan was lying in bed in his barracks in Germany, reading clippings sent by his father about his old friend Rubin.
He felt something wasn't right; his former sparring partner didn't seem to have been given a fair trial.
When he returned home, he visited both Carter and Artis in prison.
Before long, he was sleeping in a cell to cut down his travelling time. He called himself number 45472-and-a-half – midway between Carter and Artis' prison numbers.
Hogan began digging. He went to visit Bradley, who brandished a baseball bat as he welcomed him to the house.
He went to the jail where Bello was serving time. Bello mentioned he had been promised a reward for his testimony; Bradley said he had been promised a deal that never materialised.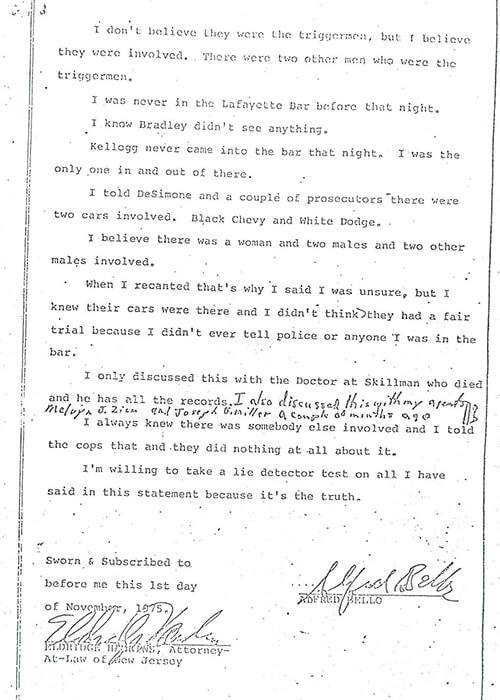 Bello said he had seen two black guys outside the bar, but he wasn't sure it was Carter or Artis. Bradley agreed.
Carter, meanwhile, decided to right some wrongs on his own.
His fury at his trial – the fact he was "tried by 12 white folks" rather than "Muhammad Ali, Bob Dylan, Stevie Wonder… this was the jury of my peers" – channelled into his writing.
Using toilet paper, the only material to hand, Carter painstakingly wrote his autobiography, which was smuggled out by any means possible.
A copy of The Sixteenth Round made its way to Dylan. Dylan finished his tour of England in 1975 and, on his way home, made a detour to the Clinton Correctional Facility, where Carter awaited him.
The men spent several days together, and Dylan played a gig at the prison.
In November that year, he released Hurricane, the story of "the man the authorities came to blame/for something that he never done".
The song became the heartbeat of Dylan's Rolling Thunder Revue tour, which included that special show inside Carter's prison.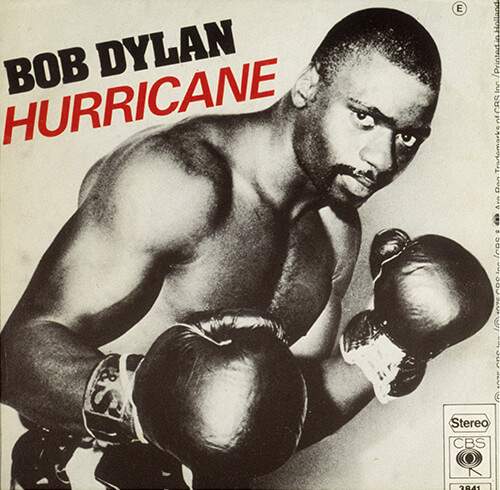 Ali was brought into the fold by Lipton, an old friend of Carter's. Carter and Ali did not like each other; Carter found Ali rude, while Ali was wary of Carter's friendship with rival boxer Sonny Liston. But Lipton knew the importance of having someone as well respected as Ali on board.
In October 1975, Ali beat Joe Frazier in the Thrilla in Manila, the final fight of their iconic trilogy. Two weeks later, after their rivalry played out in front of one billion viewers, Frazier and Ali stood together to speak in Carter's defence.
As the celebrities kept the case in the public eye, Hogan worked the legal side. He got hold of a tape on which Bello was told he would be looked after should he identify Carter and Artis. These transcripts had not been seen by the defence teams at the original trial.
A retrial was ordered.
Madison Square Garden hosted one of Carter's biggest victories. Now, in 1975, it was full of people fighting for his freedom.
Carter was there in spirit if not body as Dylan, Stevie Wonder and Isaac Hayes took to the stage to raise money for Carter's legal fund.
Twenty thousand people intent on getting him out of prison raised about $125,000.
The money was more important than ever – now a retrial had been ordered, Carter would only be able to get out of prison before the proceedings if he could post bail. But there was no sign of the concert money. Carter suspected a thief in the ranks.
At Deer Lake training camp, Muhammad Ali's phone rang. It was Carter. He needed money. Ali wanted to know how much; Carter said it would be substantial.
"I can't just get out," he told Ali. "I gotta get John outta here too. John doesn't have any money." Ali agreed to pay.
The next day, Carter and Artis stood on the court steps, blinking into the glare of the camera lights. They were free. For now.
Artis went to visit the Lafayette Bar, to stand in the place where the triple murder he had been accused of had occurred.
Carter went home and soon his wife, Mae Thelma, was pregnant again. But home life was difficult.
The Carters had no money. Daughter Theodora watched as the family had their benefits cut off now her father was free.
Coming out of prison had not solved all of Carter's problems.
Artis and Carter re-entered the courtroom in December 1976.
Both were wary. Artis had butterflies as he made his way to his seat. Carter was composed but feeling abandoned; he believed the famous friends who had attached themselves to his cause had disappeared once he had been released.
Things quickly went wrong. Bello once again changed his statement to place Carter and Artis at the scene, and the prosecution introduced a devastating racial revenge theory. Before the Lafayette shooting, a black publican – Roy Holloway – was murdered by a white man – Frank Conforti.
Holloway's step-son was Eddie Rawls, a barman at the club where Carter and Artis had been on the night of the murders.
The prosecution, playing on the 'angry black man' stereotype, claimed the murder of three white people in a bar that did not serve black patrons was an attempt to avenge Holloway's killing. Artis became so disheartened he stopped going to court.
Those in the media who had helped Carter secure his release also turned against him.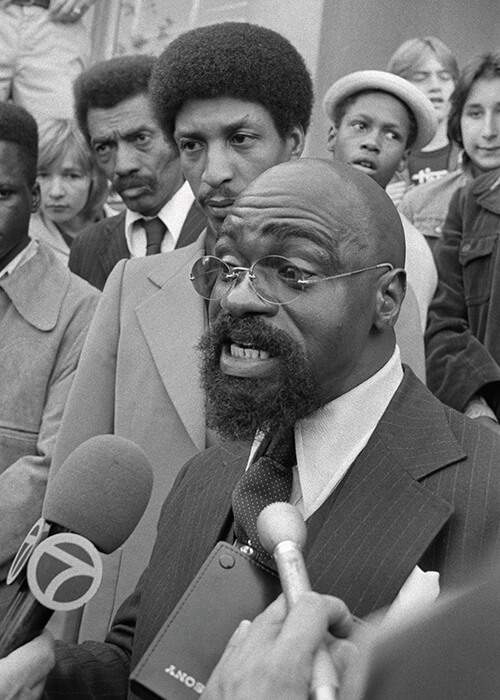 Midway through the trial, the front page of the local paper displayed a photograph of Carolyn Kelley. She had been one of Carter's most prominent black supporters.
Here she was, lying in a hospital bed, claiming Carter had beaten her up in Maryland. The article documented how Carter had attacked the woman who had helped secure his release.
Carter denied the claims to his lawyers, calling it "complete bullshit", but the damage, and the negative press attention, was done. Carter's refusal to take the stand would not have helped.
The first time around, the jury deliberated for six hours. This time, it was for nine. The outcome was the same. Life in prison.
His support had quietened, but one 15-year-old boy and a group of Canadians were about to find their voices.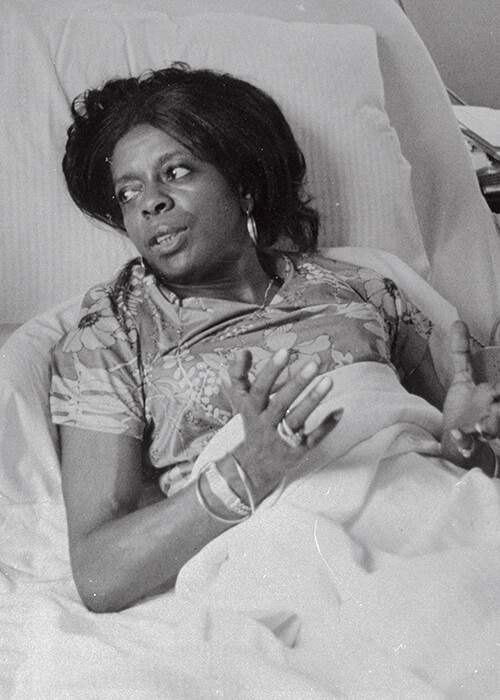 Lesra Martin knew he had graduated with the third highest mark in his class. Yet he also knew he could not read or write.
He also knew things had changed for him. He had gone from living in a New York ghetto to an Ontario mansion with a Canadian commune.
He was in a warehouse on the waterfront when the book caught his eye. A huge, bald black man stared out at him from the cover, his eyes following Martin around the room.
Martin thought the man looked as though he had something to say, and he wanted to hear it.
As he stepped forward, another customer leaned in to the book bin and took the copy of The Sixteenth Round.
Martin watched as the man walked away, Rubin Carter's face peering out from the crook of his arm. Something told him to follow.
Eventually, the man put the book down and Martin, as quickly as he could, grabbed it.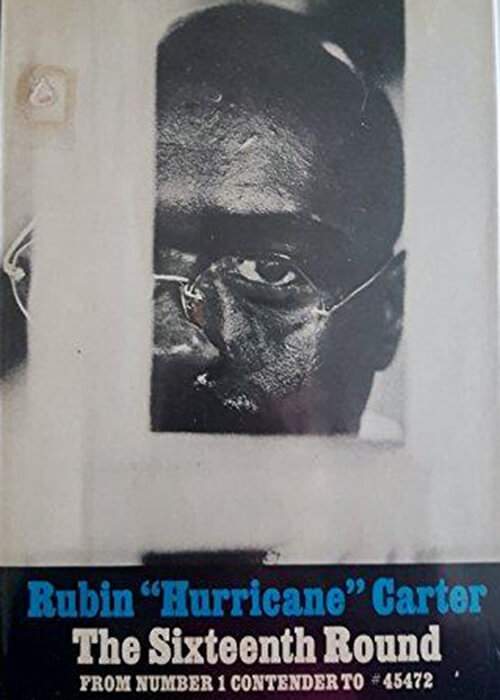 With the help of his pseudo family, Martin read Carter's life story. He saw a pain in Carter's eyes; he recognised the 'my word is my bond' mantra that Carter wrote about.
Tentatively, with an unsure hand, he wrote to Carter, to let him know he was still having an influence beyond the prison walls.
Carter, by now back in Trenton State, did not take visitors. He did not write letters. He did not interact with the outside world.
Maybe it was the messy handwriting that made him curious enough to open this letter. It struck him how nice it was. And he wrote back.
A few months later, a scared, frozen young man stood in the middle of what had once been the execution room, staring across at Carter. He told him about the Canadians that he lived with, and slowly, gradually, Carter became part of their family.
Lisa Peters, the head of the commune, was not a woman to be messed with. She did not mind arguing with Carter, or telling him he was wrong. She decided they were going to free Carter.
Working with his lawyers, the tenacious Canadians compiled a habeas corpus petition.
Habeas corpus. The last form of appeal. A way for Carter to protest that his imprisonment was not lawful.
To present a case, a person has to prove they have exhausted all other legal avenues. And Carter was all out of options.
He felt no-one could understand; not even Artis, who had been released on parole in 1981 for good behaviour and his role in stopping a prison riot. It was all or nothing.
This time, there would be no trial. No jury. No court. No-one would rule on guilt or innocence. Just a judge, who would read the 90-page submission that contained Carter's last shot at freedom, and decide if the defendants received a fair trial.
Lee Sarokin had not heard of Carter, and ignored his children when they urged him to listen to the Dylan song. Instead, he read the petition.
What he read troubled him. Firstly, the racial revenge theory; a prosecutor during the trial had said something to the effect of "this is what black people do". There was also the Bello problem.
Sarokin noted Bello had been given a lie-detector test, but not told the result directly; instead the prosecution had hinted to him the story he told about Carter and Artis being the gunmen had come through as true on the lie detector.
Sarokin believed Bello had picked up this version not because it was the truth, but because someone had told him it was.
Carter's lawyers ran to the courthouse on 7 November 1985. They flipped straight to the final pages of Sarokin's verdict, where the words leapt off the page.
The conviction was set aside.
The next day, Carter was brought to the courthouse. The room was packed, his supporters watching. There was still a chance Carter could go through another trial, should the prosecutors wish.
On his way in to court, Carter passed his sheepskin coat to another man, who silently handed him his blue jacket. Carter was leaving prison today, either as a free man or in disguise.
The prosecution claimed Carter was unchanged; a violent man who would always be a danger to the public. Sarokin retired to his chambers to reflect.
He came out and looked Carter straight in the eye as he said he would be set free, into the custody of his lawyers. He was not to leave the country in case the prosecution could force a third trial.
Nineteen years after he left the Nite Spot in New Jersey, Carter could go back to his everyday existence.
Thirteen times the state of New Jersey appealed against the decision. Thirteen times they failed.
Carter had what he most wanted – his freedom. The freedom to travel, as he did by moving to Canada two years after his release. The freedom to love, which he did by divorcing Mae Thelma and marrying Peters.
Carter's relationship with Peters was complex. He loved her, but he didn't like her; he adored her strength, but he didn't want to spend any time around her.
For Carter, this was a stifling reminder of the prison he had escaped. He was torn.
Part of him wanted to stay, to repay the debts the Canadians had incurred when they framed their lives around getting him released from prison. But he felt trapped, a trophy horse with no money of his own, a bird in a gilded cage.
One Christmas, Carter had had enough. He packed his Jeep with his possessions and, with $125 in his back pocket, left.
He knocked on Lesra Martin's university door but he found himself drifting back and forth between there and the commune, unable to settle.
For nine years, Carter was a nomad. But he found purpose working with the wrongfully convicted. This time, Carter was the celebrity, working on the outside to free those inside.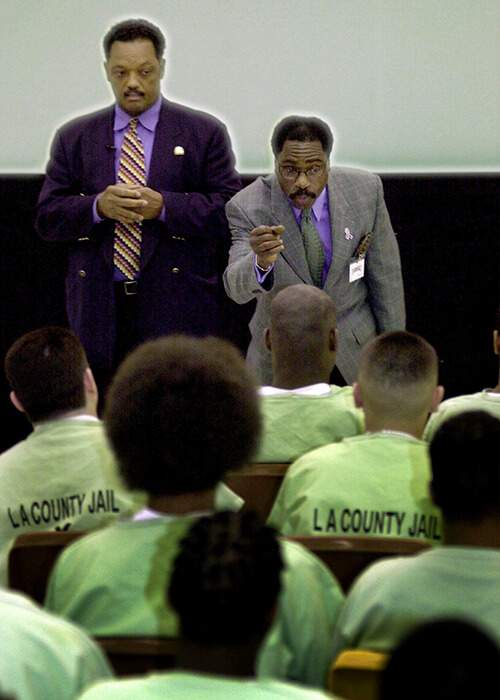 Carter liked that he worked with ordinary people, bound together by a feeling that something was wrong.
He helped Guy Paul Morin, imprisoned for rape and murder in 1984, secure his release after 11 years in prison.
He headed the charity Association in Defence of the Wrongfully Convicted, which fought to have Clarence Chance and Benjamin Powell freed 17 years after they were convicted of murdering a deputy sheriff. But Carter was still angry.
"I still remember when a black man could be lynched for walking down the street with a white woman," he told a colleague. "Those things just don't go away."
Artis and Carter's lives had been intertwined for 19 years. They became entwined once more when Carter was diagnosed with cancer. Artis went to visit him; he eventually became his primary carer, nursing the man who, as a teenager, he had been told to blame for a vicious triple murder.
Artis watched Carter fight, as he had throughout his career, but as time went on, he began to fade. Artis saw him disappearing, his weight dropping to a little over six stone.
Artis went upstairs one morning, and saw Carter stretch his hands up to the sky, before folding them down across his lap.
On 20 April 2014, at the age of 76, Rubin Carter was gone.
David McCallum was still a child, just 16, when he was sentenced to life in prison in 1985.
Carter, who had been out of prison for just two weeks, might have read about the case in the paper; heard about McCallum and his friend, Willie Stucky, sentenced to life in prison for the murder of a young boy in New York.
Both had confessed, but not before they had been beaten by police officers. Both were told the other had implicated them and, unless they confessed now, things would only get worse, just as Carter and Artis had experienced all those years earlier.
From his prison cell, McCallum wrote 600 letters. Carter read one. And just as Lesra Martin had come to his aid, so he came to McCallum's.
McCallum did not know what to expect when Carter visited him. What he got was a warm smile, the two sharing their experiences in prison.
It was more than just a visit to Carter, though. He made it a point that, before he helped release someone, he would visit them in prison and look them in the eye.
From his deathbed, Carter wrote to a newspaper. His single regret in life, he said, was that McCallum was still in prison. McCallum's freedom was his dying wish.
"If I find a heaven after this life, I'll be quite surprised," he wrote. "I lived in hell for the first 49 years of my life and have been in heaven for the past 29."
Six months after Carter's death, his wish came true. McCallum was exonerated and lives now as a free man in New York City.
The murders at the Lafayette Bar and Grill remain unsolved.
SOURCE: BBC