September 24, 2016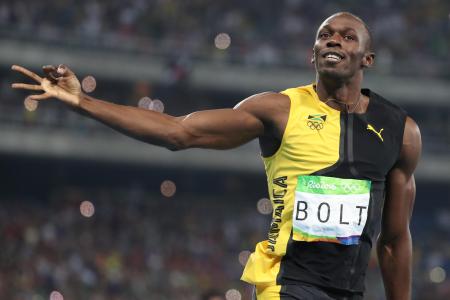 Usain Bolt is the fastest man in the world with nine career Olympic gold medals, but he previously declined the opportunity to add NFL wide receiver to his long list of accomplishments.
During an interview on The Dan Patrick Show (via Seth Rubinroit of NBC Sports), Bolt said NFL teams have contacted him about possibly playing wide receiver but that he declined the offers.
"I've never really thought about going," Bolt said, "but I've gotten offers, and people have asked me."
Bolt did not specify which NFL teams made contact with him about playing in the league. He did say one element of the sport he doesn't like is the hard hits players take.
"I used to watch [football] when I was younger, and the hits that the guys used to take. … I know that it is not as bad now, but the hits that the guys would take kind of turned me off," Bolt said.
There is some precedent for an Olympic champion at least getting a tryout in the NFL. American Justin Gatlin took part in rookie minicamp with the Tampa Bay Buccaneers in 2007.
In July, Gatlin told the Associated Press (via CSN Bay Area) his NFL experience was "so tough."
"I would say that how track and field is built without a union and it's a dog-eat-dog world," Gatlin said, "that's how it is to get into football.
"It's the same thing: a dog-eat-dog world. I respect all those athletes who are trying to try out for teams."
Speculation about Bolt as an NFL player has been going on ever since his international breakout at the 2008 Olympics. Most of it has been a fun hypothetical, though some have talked seriously about his potential on the gridiron.
Four years ago, former head coach Brian Billick got the help of some mathematicians who calculated Bolt's hypothetical 40-yard dash time:
For the record, per Fox Sports' Dieter Kurtenbach, Bo Jackson ran the fastest 40-yard time in football history at 4.12 seconds.
Former NFL head coach and Pro Football Hall of Famer Tony Dungy told Patrick last month (via SB Nation's Adam Stites) that Bolt would scare a lot of opposing defenses.
Dungy did add he wasn't sure if Bolt could survive playing in the NFL, which is valid because the physical demands are different than what the Jamaican star goes through while training for a short race.
At 30 years old, Bolt is probably not in the age range where he could be expected to start training to play football.
He's a tremendous athlete with great skills who unfortunately won't be making the transition to the NFL.
SOURCE: sports.yahoo.com