Simone Biles, four-times world champion, winner of three individual Olympic gold medals and arguably one of the greatest gymnasts of all time, is 4ft 8in, but this is not how she appears when in flight.
In the hangar-like space of the World Champions Center, a gym complex in a suburb of Houston, Texas, she stands at the end of a padded runway.
All morning, Biles has been hanging out with squad gymnasts, some as young as six, who are already training full-time at the facility and are so accustomed to seeing Biles, says her mother, they barely look twice. (Occasionally, says Biles, "We'll have a new kid come in and just stare. Other than that, it's normal.")
For her part, Biles trains with the off‑hand style of the preternaturally talented, that almost louche kind of grace you see in top tennis players knocking up or sprinters stretching before a race, and behind which lies extraordinary powers. And then she starts running.
Last year, Biles returned to gymnastics after 12 months off and she is still adjusting to the demands of her schedule. After the training session, we sit in the office that overlooks the vast floor of the gym, Biles with a tracksuit thrown over her leotard, and talk about what it is like to be 21 and at the top of her game, the pressures of being the best in the world and just how Biles knows where she is when she's airborne.
At times, she seems younger than her years, a product of the almost religiously sheltered upbringing of the professional child athlete. At others, she sounds like a 45-year-old woman who should be running for political office.
Biles swept the board at the World Gymnastics Championships in Doha last October and has had two moves named after her ("The Biles") – one of which, on the vault, is described by the International Gymnastics Federation as a "round off flic-flac with ½ turn (180°) on stretched salto fwd with 2/1 turn (720°) off".
Yet her appeal beyond the world of gymnastics – the reason I have heard so many women say, when her name comes up, "Oh my God, she's amazing," – is not just the physical and psychological courage necessary to excel at such a hard sport.
What has become apparent, in the last year, is Biles' moral courage. As an athlete, she is talked of in the same breath as Serena Williams, but the echo I find in her is of Muhammad Ali.
In a sport whose governing body, USA Gymnastics, has been thoroughly disgraced by the conduct of its team doctor, Larry Nassar – currently serving a life sentence for sexually abusing young gymnasts in his care, including Biles – she will not bite her tongue.
"It really has to be something that sets me off," she says sheepishly, some way into our conversation. "But once I'm sure of something, I'll go ahead and say it."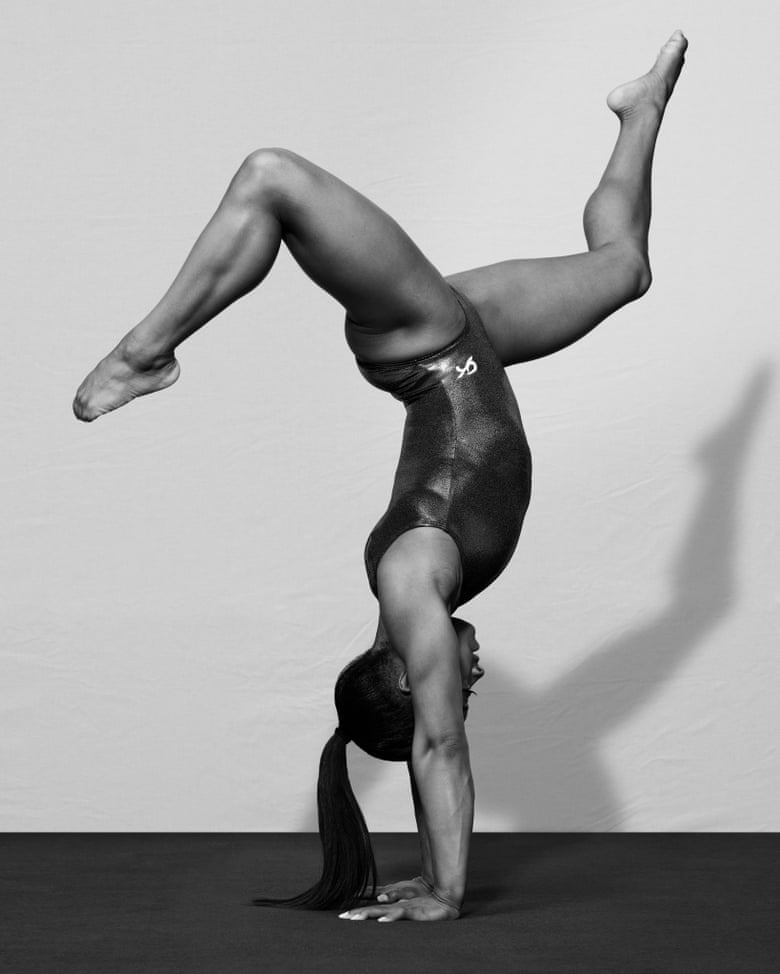 It is a reminder, watching the morning training session, that competitive gymnastics is a strange world in which to immerse young children. Female gymnasts are said to peak in performance at 16, the minimum age at which they can compete at senior level events, including the Olympics.
Whereas male gymnasts bulk up with puberty and become stronger competitors, their female peers are generally considered more effective as children.
"You want to be light in the gym, you want to be petite," says Biles, who started relatively late, at the age of six.
"For females, once you go through puberty, you get a butt, you get boobs, and that makes it harder to do gymnastics because everything is going in different directions." She laughs.
The sobering thing is that, while 16 is the official peak age, in reality many female gymnasts are considered to peak at 12.
This is borne out by the scene at the World Champions Centre, which is owned by Biles' parents, Nellie and Ron.
At one end, toddlers play with their parents in a baby gym area, while at the other, a coach drills tiny girls, many of them already ranked nationally, at work on the asymmetric bars. The air smells like every gymnastics centre in the world – of chalk dust and feet – and there are huge photos of Biles on the walls.
"Good jig, but keep your head down, sweetie," yells the coach at a tiny under-10.
"Don't pull the head! Elbows! Curve up through the butt! What are you doing with your legs? Work the curve! Curve! More! More! More!"
The child dismounts, landing cleanly on her feet like a cat.
"That's so bad, Sophie. It's not good at all. Your chest is like this the whole time."
I guess, I say to Biles later, the philosophy of prizes-for-all hasn't reached competitive gymnastics yet?
"No," she says, smiling. Biles was introduced to gymnastics by chance, as a rainy day activity for a hyperactive six-year-old.
She had recently moved to a suburb of Houston from her native Ohio and been adopted by Nellie and Ron, whom she calls mom and dad though they are technically her maternal grandparents. (Biles' birth mother, Shanon, with whom she has minimal contact, struggled with addiction and was unable to care for her or her siblings. Her biological father, Kelvin, has never been a part of her life.)
In the first instance, "it was just somewhere for her to climb safely," says Nellie, a nurse who ran a consortium of nursing homes and knew nothing, at that point, about gymnastics. (She and Ron went into the gymnastics business after Biles won her first World Championship title in 2013.)
"I was just another little kid on the block who used to run and jump around," says Biles.
Soon after joining the gym, a coach observed Biles do a "seat drop" – a bounce from a sitting position back on to her feet, as if the floor were a trampoline, which six-year-olds shouldn't be able to do. Biles' upper body strength was so unusual, meanwhile, that while other kids flailed a few feet off the floor, she shot up a rope to the ceiling until everyone yelled at her to come down.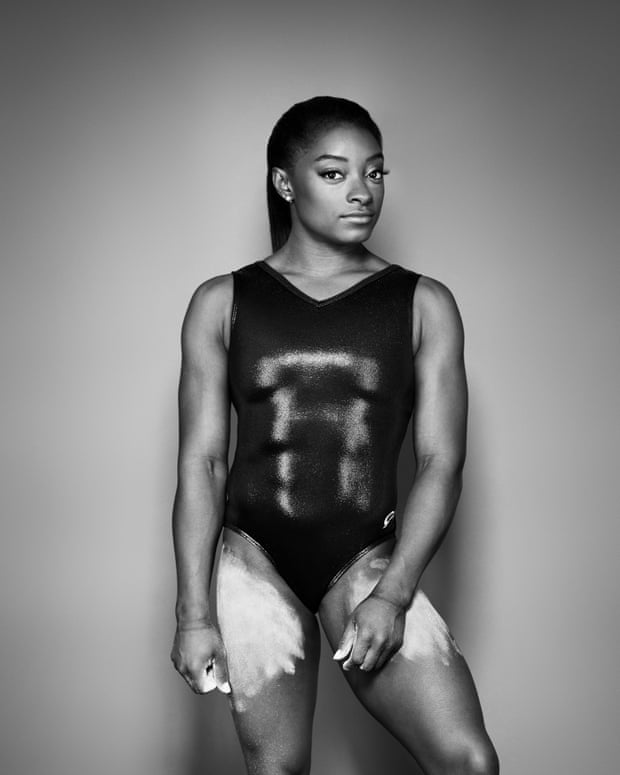 In spite of all this, there was no thunderclap moment. "I was pretty young and I just knew that it was a lot of fun and I wanted to do it," says Biles.
"But it wasn't that feeling of 'oh-she-belongs-here'."
In fact it didn't occur to her that she might have talent until she was 16, by which time she had risen up through regional competitions to the US Junior National Team and finally to the senior competition.
Almost immediately, she won the women's individual all-around event at the 2013 World Championships in Antwerp. But, I say with some incredulity, at 16 you were already operating at such a high level. Surely the realisation that you were good came earlier?
"But once you get to a high level, there are still 100 other elite athletes. I wouldn't say that I'm lucky but, if you look at it, there are hundreds of thousands of gymnasts in the US, and only four will make a team. So it's almost like playing the lottery. You just never know."
Like most professional athletes, she is incredibly hard on herself and competes less with others than with her own internal set of ideals.
In the past, Biles' mother has tried gently to persuade her that she is almost always the best gymnast in the room, but this is not how Biles sees it. (This is, of course, the inverse of what one tells less-sporty kids, that it's about doing their best in relation to their own goals. Apparently this doesn't work with world champions.)
During those early years of competition, Biles, along with the rest of the women's national squad, trained with Márta Károlyi, the then team coach and co-ordinator who ran training programmes at the Károlyi Ranch, a centre 50 miles north of Houston.
At home, Biles' coach, Aimee Boorman, had always emphasised the importance of having fun while competing; but this was not the approach of Károlyi, a Romanian-American known for her unforgiving attitude and the inculcation of what one Olympic gymnast, Madison Kocian, described in the wake of the Nassar revelations as "a culture of fear, a culture of silence".
In Courage to Soar, the memoir Biles published in 2016, she recalls Károlyi telling her not to cheer for her peers at competitions and frowning on anything during training – laughter, for example – that might imply she was enjoying herself.
She also urged Biles to attempt an excruciatingly difficult move on the vault, the Amanar, which involves two-and-a-half twists off the table, for the first time during a competition.
In both cases – the demand not to laugh or cheer, and the request that Biles perform a move she felt was dangerous without adequate preparation – she pushed back against Károlyi.