November 27, 2017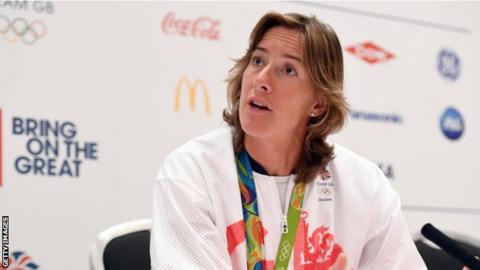 UK Sport chair and Olympic gold medallist Dame Katherine Grainger has urged British sports to improve athlete welfare.
Several governing bodies are embroiled in bullying allegations and Grainger said they must "rise to the challenge" of improving high-performance culture.
The 42-year-old five-time Olympian, who won rowing gold at London 2012, said there was "a lot more to do" on duty of care, and that this would mean more medals, not fewer.
It comes as UK Sport releases new guidance to coaches and staff on how to treat athletes with more respect.
The funding agency says coaching staff will be given guidance on four so-called "golden threads" of a positive and winning sporting culture – inspiration, integrity, the pursuit of excellence, and respect – tailored to "12 critical moments in an athlete's journey through their sport".
What is the background?
UK Sport's 'no-compromise' funding strategy, which allocates money according to medal potential, has been credited with transforming the country's Olympic and Paralympic fortunes.
But months of negative headlines involving athlete complaints have raised fears that medal success has come at the expense of welfare.
Last week, British Gymnastics became the latest governing body to be dragged into the crisis, after inquiries into duty of care standards at British Cycling,British Swimming,British Canoeing,GB Taekwondoand the British Bobsleigh and Skeleton Association among others.
Commonwealth champion Dan Keatings told BBC Sport he experienced a culture of "bullying and manipulation" throughout his time as a British gymnast, and several of his former team-mates are in dispute with the governing body over their refusal to sign new contracts.
Last month, MPs on a parliamentary select committee were told that British athletes were threatened with not being selected if they spoke out about classification concerns in Paralympic sports.
Meanwhile, Jess Varnish is suing British Cycling and UK Sport after she claimed to be the victim of bullying and discrimination when she was dropped from the Olympic squad last year.
If her lawyers successfully argue that she should have had employee status as a competitor and therefore better protections, the case could have major ramifications for all contracted athletes who are funded by UK Sport.
'There is a lot more to do'
"I recognise and accept that there have been a number of difficult issues across a range of sports in recent months that have challenged our system, and we have to rise to that challenge," said Grainger, who became one of the most powerful figures in British sport when appointed in July.
"These issues do not take away from the achievements of our athletes and coaches, but neither can we brush them under the carpet or just hope that they go away.
"We have to aim to be the best in the world at athlete welfare, culture, governance and integrity just as we aim to be so in performance.
"And we have to be seen to be the best in order to maintain public trust and pride in our achievements."
UK Sport has already appointed a new head of integrity and says it has conducted a review of policies across the high performance system.
It is also understood to be considering more funding for the British Athletes Commission.
Last week the sports minister Tracey Crouch said she was open to appointing an independent ombudsman to investigate cases of bullying and discrimination, a key recommendation of Dame Tanni Grey-Thompson's duty of care review earlier this year.
"We have done a lot already but there is a lot more to do," added Grainger. "In particular we have to concentrate on putting these new and improved policies into action.
"Getting our culture right is simply the right thing to do. This isn't about putting welfare before performance because there isn't a choice between the two.
"I genuinely believe that a better culture will lead to a stronger system and that in turn will help improve performances."
SOURCE: dailymail.co.uk
AUTHOR: Ekow Asmah
CATEGORY:
News