February 11, 2019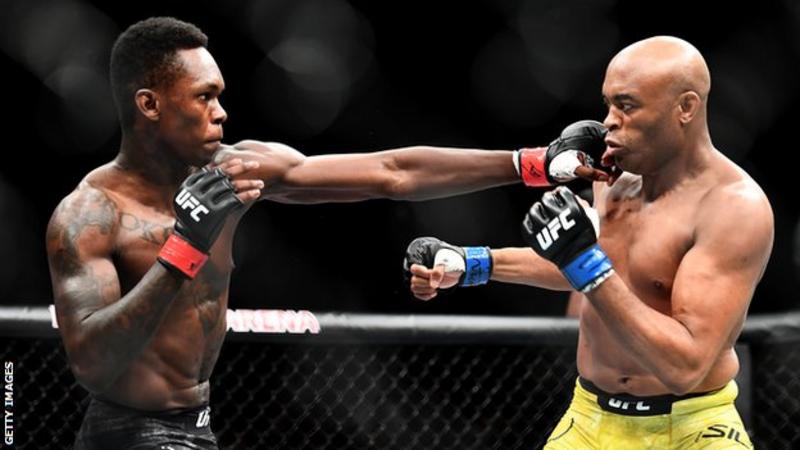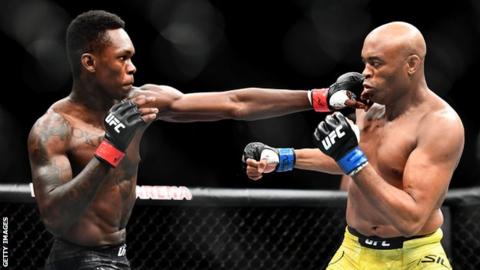 Undefeated middleweight Israel Adesanya stepped into the main event spotlight and claimed the biggest scalp of his mixed martial arts career with a unanimous decision victory over Anderson Silva at UFC 234.
Nigeria-born Kiwi Adesanya, 29, and Brazilian legend Silva were originally scheduled to face off in the night's co-main event contest in Melbourne.
They were promoted to the main event of the show after Australian UFC middleweight champion Robert Whittaker withdrew from his fight.
Whittaker was taken to hospital and had emergency surgery on what UFC officials called a "severe abdominal injury".
It forced the cancellation of Whittaker's scheduled world title defence against American Kelvin Gastelum.
Undefeated former kickboxing star Adesanya's fight against 43-year-old former middleweight champion Silva, who was returning from a two-year hiatus – which included a one-year doping ban, had already been billed as a world title eliminator.
And the pair delivered a thrilling contest at the Rod Laver Arena as they showcased their spectacular martial arts striking techniques.
After three rounds of gripping action, Adesanya was unanimously declared the victor with scores of 29-28, 30-27 and 30-27, taking his career record to 16-0.
Adesanya said it was a surreal experience sharing the octagon with one of his idols.
"This is crazy. This is like, for a kid, just to play… If I'm playing basketball, to play against Michael Jordan. This is it for me," he said.
"You guys all play EA Sports. I do this for real – and I do it against the best."
Silva hinted that he may fight one more time in the octagon, if he can get himself onto the fight card for UFC 237 in his home town of Curitiba, Brazil, on 11 May.
Whittaker's "freak injury"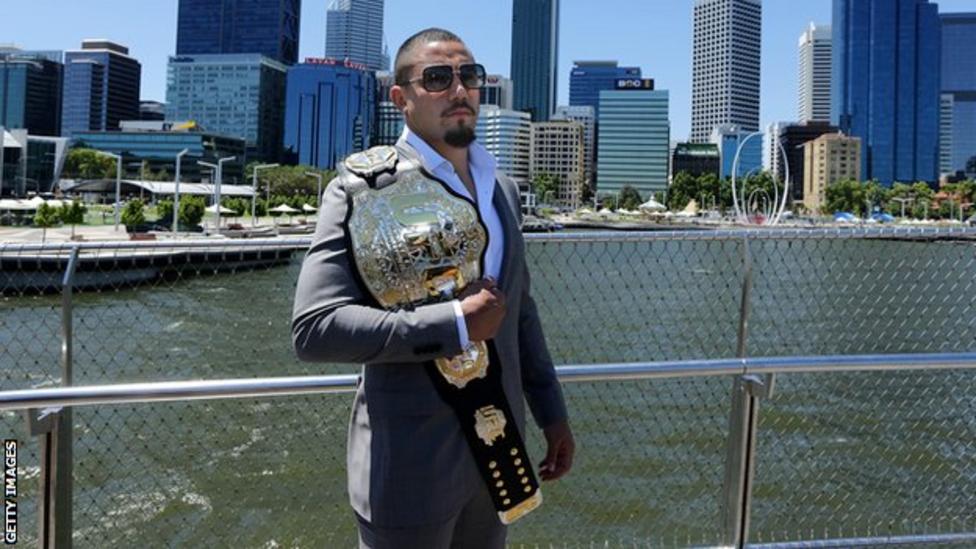 Backstage at the event, UFC president Dana White revealed the extent of Whittaker's hernia injury, saying an occurrence of the ailment during his scheduled fight could have been "fatal" for the Australian world champion.
"He's in the recovery room with his wife and his family," White said.
"This is one of those freak accidents where the doctor said he'd literally never seen this type of injury in a young person. This usually only happens to old people.
"His bowel and his intestines poked through the hole and it didn't happen yesterday [at the weigh-ins]. They think he had this problem and it's been going in and out.
"And it's one of those situations had it popped out during the fight, it could have been fatal for him. So this is really serious.
"We don't know exactly what happened with the doctor. Hopefully they popped it back in and sewed it up and if that's the case, he'll be out of action for four weeks.
"This was a freak, freak injury. Our doctor here at the UFC, who's been doing this for 30 years, has never seen it ever in his career and not in a young person. It's usually in much older people."
Gastelum declares himself champion
During the preliminary card, Whittaker's scheduled opponent Gastelum arrived backstage at the Rod Laver Arena sporting a UFC world championship belt and declared himself as the new UFC middleweight champion.
"This is my belt, I earned this," he said.
"I showed up, travelled thousands and thousands of miles away from home, made the weight – I'm the champion.
"Hopefully Rob heals up great. I wish him a speedy recovery. And then, after he heals up, maybe I can give him a crack at my title."
But despite Gastelum's attempt to position himself as the champion, UFC president White said Whittaker would remain champion and the UFC would look to get Whittaker back into world title action as soon as the Australian was fully recovered from his surgery.
"Hopefully this thing is only going to be four to six weeks, according to the doctors," he explained.
"He's in great shape and let's see how long it takes him to recover from this, and we'll make something as fast as we can."
White also revealed the title belt being carried by Gastelum actually belonged to UFC flyweight champion Henry Cejudo.
"That was Cejudo's belt that he'd borrowed," he grinned.
"That was cute."
SOURCE: BBC Sport