February 4, 2017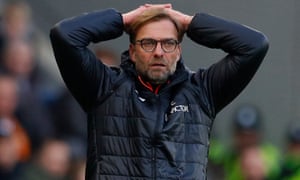 Jürgen Klopp said Liverpool deserved every criticism for
a 2-0 defeat at Hull City
that he fears could be connected to seeing the Premier League title disappear from view.
Liverpool's dreadful start to 2017 continued against Marco Silva's relegation-threatened but revitalised team as goals from the debutant Alfred N'Diaye and the on-loan Everton flop Oumar Niasse gave Hull victory at the KCom Stadium.
Klopp's team have now won once in 10 matches in all competitions, falling 13 points behind the league leaders Chelsea as well as exiting the FA Cup and EFL Cup in rapid succession.
Manchester City will replace Liverpool in the top four with a point at home against Swansea City on Sunday but Klopp insisted he was more concerned with his team's form than their Champions League prospects. And he believes the realisation that the title is out of reach this season may have contributed to a flat performance in Hull.
"We have to show now that we are really ready to go for everything. I can say it but we have to show it together. I have to watch the game again and understand it better. The counter-attack for the second goal was not too nice for me to watch. We have to change immediately."
Klopp admitted Liverpool's "mood" was wrong from the start of the game but reserved judgment on whether their attitude is to blame for losing against Hull, Swansea, Bournemouth and Burnley this season while boasting the best record against the top six.
He said: "I don't think it's attitude but all football performances are mixtures of everything – confidence, attitude, passion, readiness. It is not the first time in the season that we put ourselves under pressure. We showed a reaction in the second half and put them under pressure but if we had won 2-1 I would still be angry about the first half."I am interested in the performance. I am interested in the result too, but I am interested in the performance because you can build on a performance. We will and have to take all the criticism.
"We have to take everything. If you see it like this [a question of attitude], I can understand.
"I don't want to give the answer now because I don't think so but from outside, it looks so, I can understand.
"We have the record we have against these teams and the record against the other teams.
"I know the boys, they don't show any difference during the week, but we have to show an answer, not give an answer.
"We produce our problems most of the times by ourselves and we did that again today."
SOURCE: theguardian.co.uk