March 13, 2019

It's Fight Week.
I just spoke briefly with Mikey Garcia a few minutes ago and suffice it to say: He's ready for Errol Spence Jr v Mikey Garcia.
I asked him to tell me "The Truth": "When did you first consider fighting Errol Spence Jr against the advice of your brother and father and why?"
He tells me, in laymen's terms, that he'd seen the Kell Brook fight in May 2017 and thought to himself, "I think I can beat him." Then, surrounded by family in front of the flat screen in January 2018, he watches Spence damn near kill Lamont Petersen, and says out loud, "I can beat him."
Bewildered, I'm like: "Really? That's amazing. Those are two really big welterweights, somewhere you've [never been], and that was your impression?"
Garcia, a ring sociopath, goes: "Yeah."
I remind him of a question I posed to Spence (who was equally laser-focused during our little chat and smartly kept things vanilla) regarding a statement made by his TOTY award-winning militant trainer, Derrick James, in which he stated that at some point, Mikey's corner will have to make a decision about just how much punishment they will allow Mikey to take.
Ok so Garcia, perhaps a ring psychopath, goes: "I don't care."
I f****** believe him.
A few years ago, in early July 2016 to be exact, I spoke with Mikey through his publicist at length about a number of things before he was set to face Elio Rojas in his return to boxing following a two-year hiatus; an event due to a highly contentious legal dispute with Bob Arum. He was fighting under Premier Boxing Champions for the first time and making his super lightweight debut at the Barclays Center in Brooklyn. At some point during the call, I asked him about those sparring sessions with a vintage Manny Pacquiao around 2008, something he remembered quite fondly. I went reaching for my notes from that conversation a few minutes ago.
"We went a quite a few rounds; I was really young and obviously he was very strong, but he didn't overwhelm me. In fact, I started to understand him somewhat. I've always thought that if I were to face the best Manny, which we all would go on to see, that I could beat him. In fact, I think I'd stop him."
💥 💥 💥
It's a cool ass day on the boardwalk in Coney Island, NY in late August 2016. Errol Spence Jr is about to weigh-in for Leonard Bunduand I have a moment with the elder Errol Spence, who reminds me of your favorite uncle from the 1970's and someone "Shaft" would hang around. Anyway, I ask him about those much reported sparring sessions with Floyd Mayweather in Spring 2013, which produces a sly grin and gets the attention of Spence Jr.
"There were quite a few people in the gym and Floyd didn't take us seriously– at first," says Sr., referring to work Floyd was getting in preparation for Robert Guerrero. "It didn't take him long to figure out his ass better get serious."
Spence Jr maintains a matter-of-fact look on his face with a smirk, as his father describes the "domination" of a fighter regarded as the consensus best pound-for-pound fighter in the world, following Pacquiao's shocking electrocution at the hands of arch-nemesis Juan Manual Marquez. Mayweather, equal parts shocked by the force of Spence and the number of times he's being struck, cleanly, clears everyone out of the gym with the exception of the trainers, and still can't turn things around. His father, while not seeking attention at all and sounding a lot like your barber at work, says a few other things that we'll save for another time. But in a manner of a few weeks, two all-time greats and the best of their era from a soon-to-be past, have just been summarily dismissed by the present and the future.
Fast forward to March 2019, and the fast approaching "Dream Fight" pitting Errol Spence Jr (24-0, 21KOs) Vs Mikey Garcia (39-0, 24KOs) on SHOWTIME PPV for $74.99 on Saturday, March 16 at AT&T Stadium in Arlington, TX, home of the Dallas Cowboys.
What would happen if say the new "Money", a 29 year-old edition of Mayweather facing Zab "Super" Judah, was in front of the coming edition of Errol Spence Jr? And could this bulked up iteration of Mikey Garcia replicate the performance of a highly controversial Juan Manuel Marquez from December 2012?
Let's have a little fun, shall we?
Floyd Mayweather Vs Errol Spence Jr
There are those who would try to steal from "The Truth", and smart "Money" says a depreciated asset form of "Pretty Boy Floyd" would attempt to do just that– until he could not. That's when the false gold would start to turn paper green, leaving Spence with plenty of Mayweather's to burn.
On April 8, 2006, Mayweather was a 35-0 (24KOs) budding superstar. Still in need of an Oscar De La Hoya superfight and the ugly reality TV of "HBO 24/7" to truly invade households, the bout with Judah beams across urban America as Floyd becomes new "Money". Judah was coming off an inexplicable loss to Carlos Baldomir; the same Baldomir that Mayweather would dress like an emperor for upon entrance, only to fight like Commodus in November of that year (this is when Larry Merchant really went after Floyd, and the two became the actual slogan of Mayweather Vs Judah: Sworn Enemies).
Anyway, just as Mikey Garcia could lead Spence to a superfight with an aging Manny Pacquiao, Judah lead Floyd to an aging De La Hoya. Zab, a southpaw generic version of all-time great Pernell Whitaker, doesn't get credited for an early knockdown and was very competitive through six rounds. However, Judah never possessed special conditioning, something Floyd understood to wait out. And after about eight rounds, decided to produce "Pretty Boy Floyd". Mayweather would've stopped Judah, if not for an intentional foul near the end of the 10th round. Floyd would wind up getting a clear UD. But things would've been decidedly different against the Spence we'll see on Saturday night.
"The Truth" is, we're talking about a southpaw amalgamation of Sonny Liston at 147 of modern training, with elements of Mike McCallum aka "The Body Snatcher".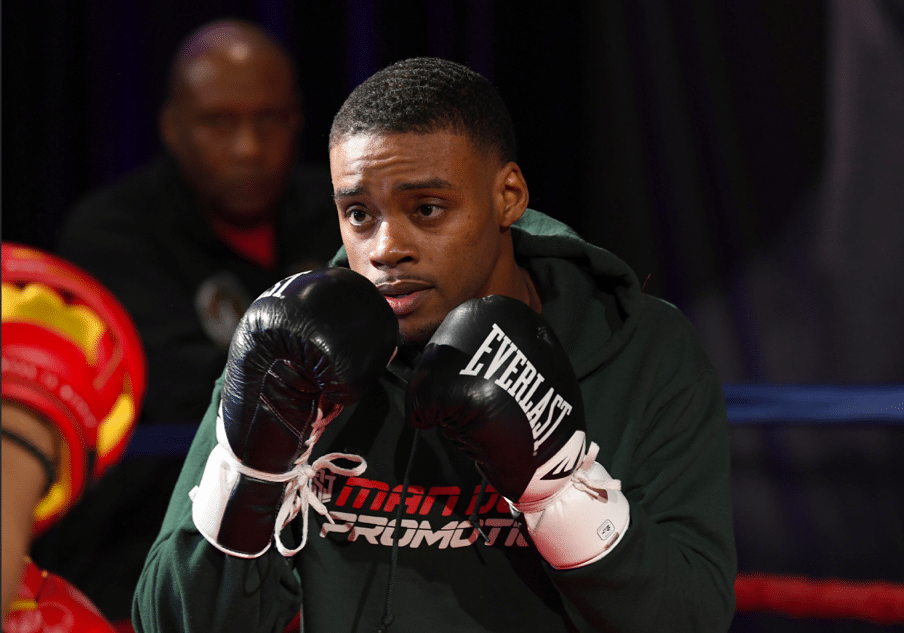 That is a serious problem for anyone in the history of the division. Given the fact that Floyd never liked southpaws to begin with (especially in their prime), "Money" would use up whatever loose change he could muster, while never being able to use the ATM to withdraw "Pretty Boy Floyd"… Everything would show up as insufficient. Errol Spence Jr would overcome an early deficit before bouncing Floyd Mayweather all over AT&T Stadium in the 10th round.
Manny Pacquiao Vs Mikey Garcia
This fight could actually happen next, if Mikey shocks the world and derails the freight train that is Spence. I know the odds are dwindling and headed toward 50/50, but as far as I'm concerned, the initial 8 1/2 to 1 odds in Spence's favor is on point. Everyone within the elite reaches at 147 over at PBC wants to face the Filipino icon next, as it's looking like it would take a Congressional hearing for Mayweather to rematch him. Keith Thurman, the WBA (Super) welterweight champion, would seem a logical fit to defend his title against Manny in an attempt to annex the belts, but boxing doesn't give a shit about logic.
"Logically", Mikey would possibly stop the current WBA "regular" ass version of Pacquiao masquerading as "Pac-Man". Listen folks, I constitute the fringe definition of a Pacturd (slang fan vernacular for a serial Pacquiao fan) and will find ways for Manny, my favorite fighter of all-time, to defeat virtually anyone. But as I've grown and the Kool-Aid pitcher has neared emptie, this has changed. That said, the Manny of 2009 was not only a vintage "Pac-Man", but he was damn near the Wapakman superhero he played in that dreadful movie (co-starring the gorgeous Krista Ranillo, someone wife Jinkee was not very fond of). That Pacquiao would've absolutely gobbled Mikey.
A more accurate comparison would involve a very controversial Juan Manuel Marquez in December 2012; a completely transformed welterweight under Memo Heredia. Any glance at the bloated, 144lb Marquez journeying from lightweight to face a full-fledged welterweight Mayweather in September 2009, would know that that's not the same fighter Manny faced. This Marquez, who'd faced earlier versions of Pacquiao; went 36 rounds prior heading in and was unable to hurt him. This time, he was absolutely bionic– and we'll leave it right there.
So how would the Mikey of Errol Spence Jr v Mikey Garcia event on Saturday night (trained by a no-stranger-to-controversy Victor Conte) have fared against the last version of "Pac-Man" with a killer's instinct from the opening bell? Pretty well, actually. The closest thing to Juan Manuel fighting today, I could see Mikey thoroughly outboxing that Pacquiao early on, while getting chipped up occasionally. I'll even venture to say he'd drop a wild Manny in round 3, as Marquez did. But things would start to turn into an oddysey for Mikey after about 4 or 5 rounds. WBO welterweight champion and pound-for-pound star Terence "Bud" Crawford (don't be surprised if his name surfaces in the Mayweather Sweepstakes) appeared to be dissing Mikey when he questioned his heart against Orlando Salido, but it bares noting. In an otherwise dominant performance, Mikey opted out after sustaining a broken nose.
And that's the thing we don't know about with Mikey Garcia days ahead of facing Errol Spence. Marquez, bionic or not, had a rare grit that allowed him to persevere through a broken nose and other issues on the verge of being brutally stopped by Pacquiao. Smashed in face and all, JMM came back to face plant his over-confident arch-nemesis with a right hand from hell. I not only believe that Pacquiao would've legitimately broken Mikey's nose– but he would've broken him, sometime shortly thereafter. In a war for the ages, this Manny Pacquiao would bull-ride and lasso Mikey Garcia in the home of the Dallas Cowboys in Arlington, TX, finishing him via gory 9th round stoppage.
March 16 can't get here soon enough.
SOURCE: nyfights.com