Eni Aluko is wearing a lime-green Hawaiian print shirt and is surprisingly sprightly after a week of celebrations to mark the end of her time as a Chelsea player. There was a champagne party bus home from the game in Bristol where the club won the titleunbeaten, plus festivities that followed her scoring in her final match at Liverpool. Back in London, Aluko cooked paella for 20 friends at her home and David Luiz invited the squad to dine at his new Italian restaurant.
"It had been an amazing week with women who have become good friends," Aluko says. "Finishing this season in such a positive way wrapped up what started so negatively for me personally."
Between the revelry, there were plenty of tears as the 31-year-old considered reversing her decision. Aluko had grown frustrated at her bit-part role, concluding after five and a half years with Chelsea she would be more fulfilled elsewhere. She has signed with a club in Europe but won't reveal where.
"I've achieved pretty much everything I wanted to with Chelsea except maybe the Champions League, which I could still do somewhere else. I love to travel and sample new cultures; the opportunity to play in Europe and learn a language is a big one. But there have been a lot of tears. I was crying on the pitch in Bristol. I have such a strong bond with the people I work with and questioned whether I'm ever going to experience that again with a new team, whether I'll be that happy – the doubts start creeping in."
A forward with electrifying pace, Aluko has been one of the outstanding players in Britain for more than 15 years, since joining Birmingham City Ladies aged 15. Marcus Bignot, her coach at the time, called her the "Wayne Rooney of women's football".
Her mum, Sileola, and dad, Daniel, a former MP in Nigeria, moved the family from Lagos to Birmingham when Aluko was six months old. She excelled at school and her parents encouraged her to continue her education even as it became apparent a top-flight football career was a possibility for her and her younger brother, Sone.
Alongside playing she graduated with a first-class honours degree from Brunel University and worked as a lawyer. Aluko is adamant girls should not be forced to choose between a football career and academic studies, calling for clubs to offer the same opportunities as they do to their male counterparts.
"My issue is young, talented players not having to compromise their education. If you look at the men's academy setups, they have partnerships with colleges or universities, whereas we don't really have that with women's football. You don't want an 18-year-old girl who's very talented thinking: 'I want to play for the first team but I've got to give up my education to do so.' That has happened a lot in the past.
"Some of big men's clubs like Man City, Chelsea and Arsenal have raised the bar in terms of salaries and professionalism of the women's game. I think there needs to be continued increase in salaries to reflect the attention on the game and its commercial viability. The argument before was that nobody was watching but that's not true nowadays."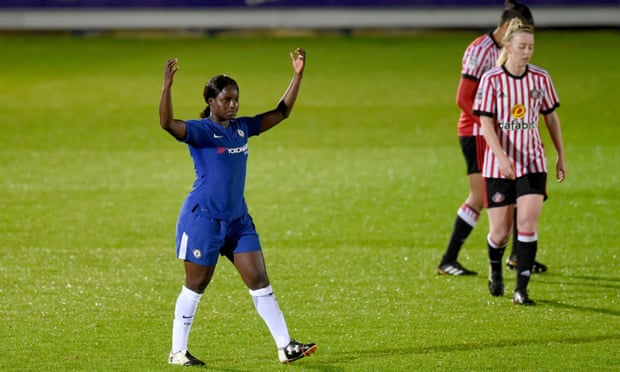 The idea that 45,000 fans would attend a women's FA Cup final, as they did this month at Wembley, was scarcely believable when Aluko was cutting her teeth in the Midlands. She has noticed more girls coming up to her in the street or at games but what she finds most heartening is the sight of more young boys at Women's Super League matches.
"That's the biggest change: young boys watching like they're watching a men's game, coming up and asking for my boots just as they would with Eden Hazard. That's not only going to affect their perception of football; it's going to affect their perception of women, so when they grow up to have relationships they're more likely to respect women as equals. They are seeing women in a very positive light and in a strong, competitive environment. Women's sport has become normalised."
Aluko did not set out to become a champion of equality or a spokesperson on problems around discrimination. But she found herself on the front page and in parliament after accusing the former England women's coach Mark Sampson of making racial comments to her and another player. She also alleged the Football Association had failed to investigate properly, as revealed by the Guardian.
Privately Aluko was shunned by some of her former team-mates and was publicly accused of being a liar. An investigation by the barrister Katharine Newton ruled she had told the truth. Sampson later lost his job for an unrelated matter. But after a distinguished 11-year international career during which she won 102 caps, Aluko has been on the England sidelines for two years. Phil Neville has left the door open but she does not know if she will go back.
"I spoke to him at a Chelsea game this season and it was a nice conversation. I congratulated him on his appointment and we talked about him moving back from Spain and I'm sure he's seen a few games where I've played this season.
"But I've moved on from what was a very stressful, negative period in my life. I've dealt with it in the best way I could. Standing up for what you believe in and being honest, telling the truth are all very liberating things. Since that time I've felt very empowered by other people seeing you can stand for what you believe, even in adversity. Success is always the best answer to critics. When you look at some of the greatest people and players in the world they all stand for something outside their working lives."
"To be going to Russia to work on a men's World Cup is incredible. I never thought that would happen and it shows a shift in broadcasting where women are becoming accepted just as part of the team. I think the difference is that if women fail, the consequences are greater.
"There's a tendency for some male pundits who have done it for years to rock up and take it for granted. I can't afford to do that so that's why I have to geek out on all the stats and facts and make sure I am not seen as a token woman but that I'm adding to the conversation."
As with all areas of her life and playing career, Aluko will ensure she is well prepared for any eventuality.
SOURCE: theguardian.co.uk