The group, which included veterans, rookies, starters and backups, gathered in front of some water coolers and behind their teammates who stood on the sideline shortly before the Browns hosted the New York Giants in a preseason game.
"There's a lot of racial and social injustices in the world that are going on right now," rookie safety Jabrill Peppers told ESPN. "We just decided to take a knee and pray for the people who have been affected and just pray for the world in general."
Peppers was joined by tight end Seth DeValve, linebackers Jamie Collins and Christian Kirksey, running backs Isaiah Crowell, Duke Johnson and Terrance Magee, wide receivers Kenny Britt and Ricardo Louis and defensive back Calvin Pryor, who dropped to one knee in a circle.
Rookie quarterback DeShone Kizer, offensive tackle Shon Coleman, punter Britton Colquitt, defensive back Jason McCourty and offensive lineman Marcus Martin stood and supported their teammates by putting their hands on their shoulders.
DeValve, who is white, is believed to be the first white player to take a knee during the Star-Spangled Banner, joining a movement kicked off last season by quarterback Colin Kaepernick, who is currently out of the NFL.
Last week, Seattle Seahawks defensive end Michael Bennett said the protest would be more effective if white players joined their black team-mates.
"We wanted to draw attention to the fact that there's things in this country that still need to change, and I myself will be raising children that don't look like me," DeValve, a second-year player from Princeton whose wife is African American, told a gathering of media afterward, "and I want to do my part as well to do everything I can to raise them in a better environment than we have right now.
"So I wanted to take the opportunity with my teammates, during the anthem, to pray for our country, and also to draw attention to the fact that we have work to do."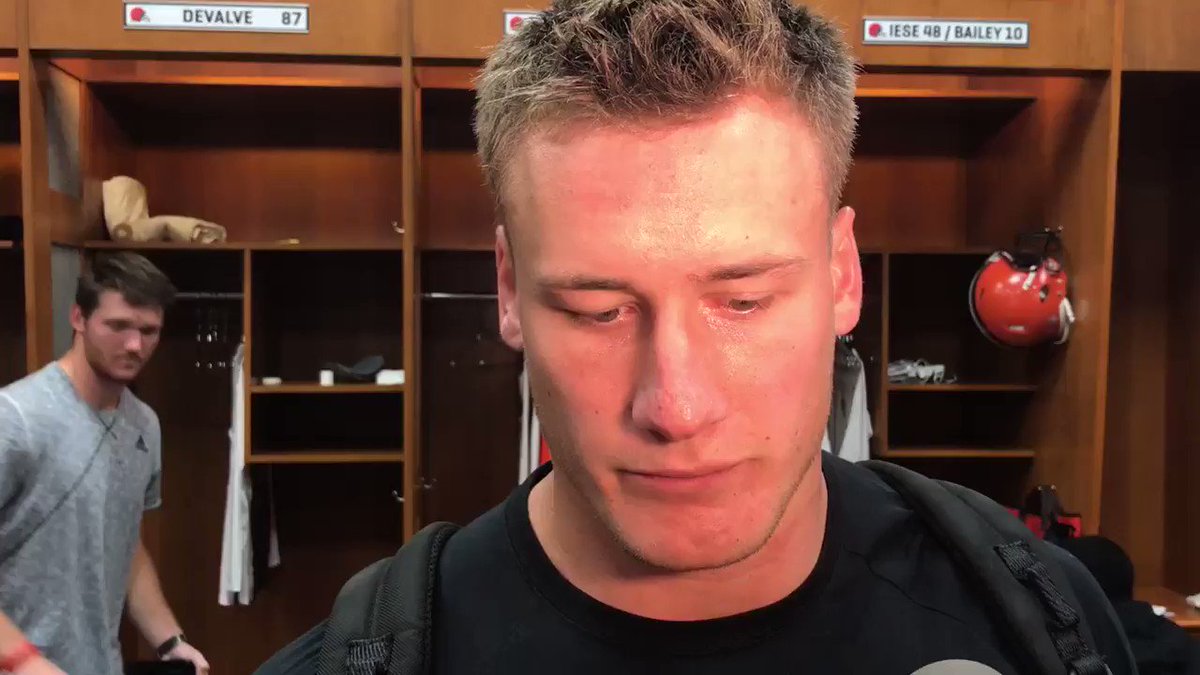 The demonstration was the largest so far in a movement started last season by quarterback Colin Kaepernick, who is currently out of the NFL. In recent days, Seattle defensive lineman Michael Bennett and Philadelphia defensive back Malcolm Jenkins also have called attention to what they feel is racial injustice in the country.
Oakland running back Marshawn Lynch also has sat during the national anthem in the preseason, but hasn't elaborated on his reasoning.
"As an organization, we have a profound respect for our country's national anthem, flag and the servicemen and servicewomen in the United States and abroad," the team said through a spokesperson. "We feel it's important for our team to join in this great tradition and special moment of recognition, at the same time we also respect the great liberties afforded by our country, including the freedom of personal expression."
Browns coach Hue Jackson drew criticism last week when he seemed to indicate he didn't want his players to protest. However, Jackson clarified his remarks to say he respected any player who wanted to demonstrate.
"The intent of my comments was not to discourage individual expression from our players in light of a cause that moves them to personal expression," Jackson said.
"I'm disheartened that I gave anyone that impression because I did not speak with enough clarity. However, my words did reflect my concern – that I would express to any player – about protesting during the anthem. There are many effective ways athletes can utilize their platform if they so desire, but I would respect any individual decision, as ultimately, it would be the player's choice after much thoughtful dialogue."
SOURCE: theguardian.co.uk